[Updates posted, one man non-seriously injured] There is a boat on fire this evening [June 2] in St George's Harbour. Police and Fire Service arrived on the scene a few minutes ago, and two fire trucks are presently spraying water onto the boat from the St George's side. There is also a Police rescue boat in the water at this time.
The vessel appears to be a small boat that was located afloat in the harbour. Photo from the St David's side below: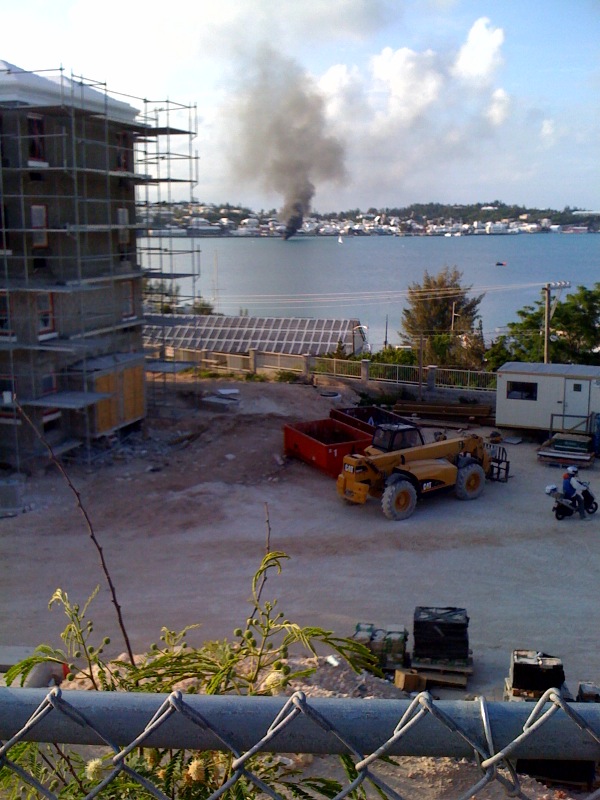 Updates posted as they come in:
Update #1: Photo from St Georges side.
Update #2: An ambulance is reported to have left the area, with lights flashing but no siren. It is unclear at this time whether anyone was on the boat at the time, and if any injuries were sustained.
Update #3: Two unconfirmed reports suggest the boat fire occured after refuelling, and that jet skis were pulling the boat away. [now three reports of this occurring]
Update #4: More photos, courtesy of Only The Best Gift Shop: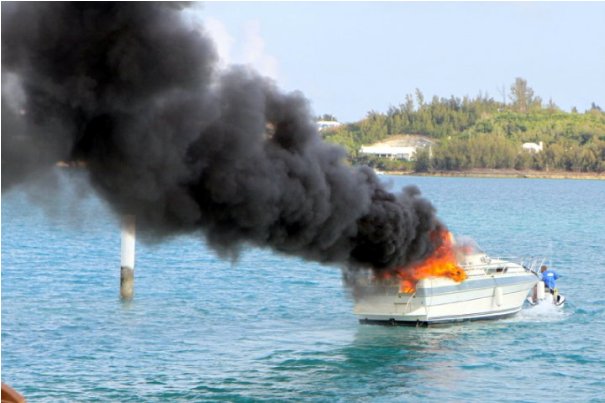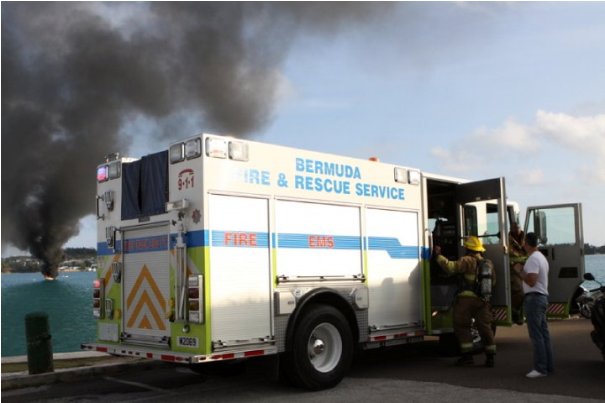 Update #5: We understand that one man was injured with burns, not seriously however. This report is unconfirmed by official sources, but credible.
Update #7: Photo of what is reported to be the injured man receiving medical care for his burns, which we are pleased to say appear to be relatively minor. Photo courtesy of Only The Best, whom we thank greatly for their help this evening. We have blocked out the man's face, as well as a bystander, to protect their privacy: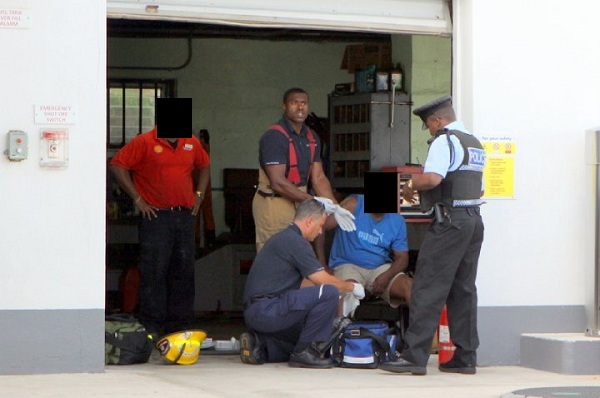 Update #9: Boat is severely damaged by the fire, photo here.
Update #10: Photo gallery below [majority of which are courtesy of All The Best] click to enlarge images:
Update #11 [June 3]: Official information from the Fire Service:
On Wednesday June 2, 2010 at 6:47pm, an emergency call was received via 911 of a boat on fire at the dock alongside Dowling's Marina on 12 Water Street, St. George.

The Bermuda Fire and Rescue Service responded with 4 fire appliances, 1 support unit and 14 personnel. The first fire appliance arrived on scene at 7:01 pm to discover a boat in the Harbour fully involved in fire. After approximately 35 minutes a passing barge towed the boat back to the dock where firefighters immediately began the extinguishment process.

Due to the nature of the fire, flammable liquids being involved, foam was the extinguishing agent of choice. Firefighters took approximately 30 minutes to completely extinguish the fire. The boat was totally destroyed by the flames.

One person was taken to KEMH with second degree burns to his legs and arms, and his injuries are not thought to be life threatening.

Bermuda Fire and Rescue Service would like to praise the quick thinking of persons at the scene for making the decision to tow the boat away from the dock and into the Harbour. The incident could have very easily escalated if it had not been for their spirited actions
[We would like to thank all those that have sent in, or allowed us to use their photos. It is much, much appreciated!]
Read More About
Category: Accidents and fires, Accidents/Fires, All, Marine, News, Photos