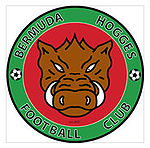 Bermuda Hogges Football Club won their third and final road trip, when they defeated Virginia Royals 2-1 at Hellwig Memorial Field Stadium, Virginia, with the temperature scorching at 100 degrees through out the day.
In the 3rd minute of play Keishan Bean hit the upright 2 yards out. In the 23rd minute of play, Troy Tucker scored the first goal for the Hogges, when he took a 15 yard shot along the ground just inside the far post of the goalkeeper. Darius Cox gave the Hogges a 2-nil lead when Hogges were awarded a free kick some 40 yards away from goal, and Mr Cox drove it into the top far corner for the Hogges.
The Royals "scored" in the 41st minute, but it was disallowed for offside. When the second half resumed, Royals started to apply some pressure, and it paid off in the 55th minute. Royals scored a low shot inside the far post to make the score 2-1. From that point forward, both teams were evenly balanced until the end of play.
This is the second victory in 3 games for the Hogges during this road trip. They return home Wednesday, July 7th.
Hogges will now have a few days rest before they prepare for their last two home games of the season when they host Northern Virginia Royals, Friday, July 16th, at 8pm and Sunday, July 18th, starting 6pm at Bermuda Athletic Association [BAA] field.
Read More About