This Friday October 22nd at 8:00p.m., The Chewstick Foundation will be hosting the second of its reintroduced "Griot Session" performance series, at the Chewstick Headquarters on the corner of Court Street and Elliot Street. Long time performer and supporter of the Chewstick Movement, Live Wires will be showcasing his reggae styling, and provocative and thought provoking lyrics.
Live Wires is no stranger to the stage as he has been performing for over thirty years. Not only is he a former member of "Sophisticated Gents"- a performance collective of horn players and drummers, but he also works to promote upcoming artists in Bermuda.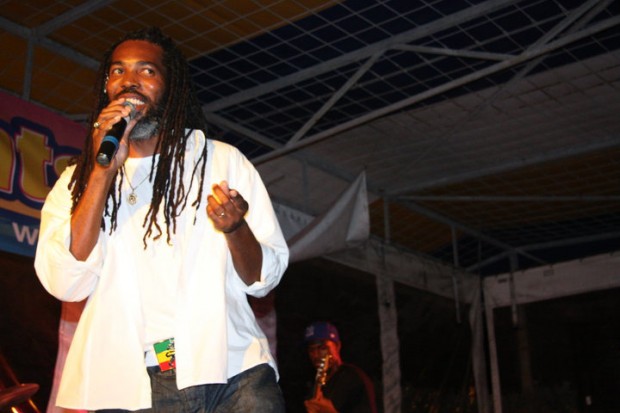 The Foundation is excited to have Live Wires in the place to share his talent and upbeat, conscious tunes. To add to the excitement, Force Proph- an upcoming hip hop artist- will be the opening act.
Live Wires is a mainstay on Bermuda's entertainment circuit and has spent years sharpening and harnessing his craft. Do not miss the opportunity to experience his act live, it is guaranteed to be an energizing and uplifting experience. He will be performing original songs and radio favorites, including: "Melanin Man", Sweet Love" and "More & More"
All performances are streamed live on the recently updated Chewstick website (www.chewstick.org) and stored in the Chewstick archives to share the experience with supporters from around the world. Chewstick believes that we are all storytellers in our own right and "Griot Sessions" allow Bermuda's "griots" to break down social barriers through story-telling in various mediums. Griot sessions enhance the connectivity between entertainers and audiences, allowing the artist to share in a dynamic and intimate way.
Tickets are only $20 with part proceeds in aid of The Chewstick Foundation. Advance payment can be made at Chewstick Headquarters between 2 and 6 pm, Monday to Friday. Seating is limited so get your tickets early. For more information call 292-2439(CHEW) or email info@chewstick.com. Enjoy the positive vibes and and celebrate live music at its best!
Read More About
Category: All, Entertainment, Music