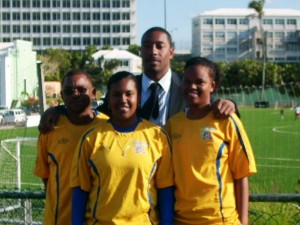 Bermuda's Brazilian Football School coaches will attend a Coerver Basic Diploma course in Toronto this weekend. Calvin Blankendal said "We see this as continuing our skills development and technical coaching training".
The names of those traveling are Jermaine Smith, Jenay Bailey Edness, Jaylen Symonds Bean and Cal Blankendal.
"One important item is that we are serious about advancing the coaching opportunities for our female coaches. Jenay is a college student at Holland College and a Bermuda National team player. Jaylen attends Cedar Bridge Academy and also plays in the National program".
"We at BBFS have a development programme where our players transition into coaching once they reach the age of 15 along with continuing their player development. We believe that females need to be coached by females and our objective is to offer them the opportunity to learn and then showcase their newly acquired skill sets. We are also looking to bolster our female membership".
"The coaching diploma course is due to our partnership with Brett Mosen and we are pleased to have been invited to this first ever Coerver course. Dennis Brown, President, is unavailable due to work commitments and Naquan Smith [a student at Berkeley] will be sitting his Art GCSE's on Friday and Saturday. We wish him well as he would have traveled with us".
"I will also be taking the course and will be in Toronto to further the international relations for BBFS and to develop new business. Jermaine Smith, assistant to Dennis Brown, will be charged with training the other coaching members upon his return from the Coever course".
Read More About