[Updated] Earlier today [July 25] Top Model Worldwide announced the two young ladies who have been selected to represent Bermuda in the next Top Model Search. 14-year-old Julia Lines and 22-year-old Kalena Astwood will compete in the 2012 Top Model Worldwide Contest, which will be held in March 2012 in London.
Julia Lines [on left] and Kalena Astwood [on right] are pictured below with Deandra Brangman [center], who won the most recent competition.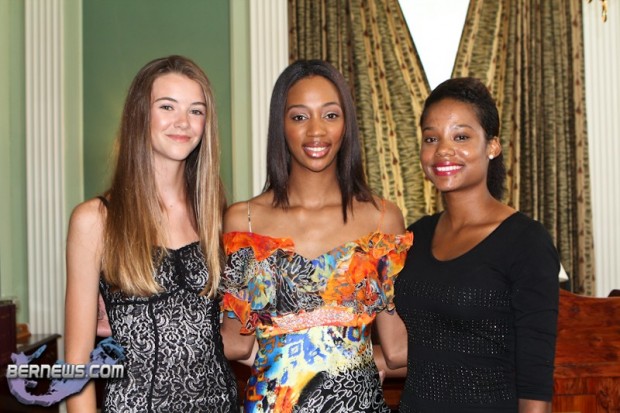 Ms Brangman was crowned the winner of the professional model search campaign event in Britain earlier this year, beating entrants from Barbados, Jamaica, Malta, Nigeria, Northern Ireland, South Africa, United Kingdom and the United States.
Following the Evolution Fashion Show earlier this month, thirteen ladies were shortlisted; Jenique Dubois, Sophie Fraser-Smith, Katherine Arnfield, Janae Niklaus, Julia Lines, Kalena Astwood, Joann Nichols, Sara Simmons, Carolita Joseph, Danielle Smith, Khianda Perman-Watson, Melissa Spurling and Sierra Reid. Joann Nichols was also invited to represent Guyana, and she has accepted.
Premier Paula Cox and the Mayor of Hamilton Charles Gosling were in attendance for the announcement, which was made at City Hall. The video below shows Top Model Campaign Director Geoff Cox announcing the two models who will represent Bermuda.
Update: Premier Paula Cox spoke, commending the young women and also joked about her own height, asking why could she not be born 4 or 5″ taller. The Premier hugged both the winners, both of whom towered above the Premier.
Update: Mayor Charles Gosling also spoke:
Read More About
Category: All, News, Style & Beauty