On July 15th 2011, the ACE Summer Interns participated in the Annual Community Day of Service organised by the Centre on Philanthropy. This year the student interns worked with the Bermuda Gymnastics Association (BGA).
The team: Alanah Bacon, Jacari Brimmer-Landy, Christina Caisey, Rebecca Conklin, Helen Crisson, Robert Jardine, Erin Levon, Korrin Lightbourne and Marcus Wade spent the day cleaning and painting the BGA's St. David's facility.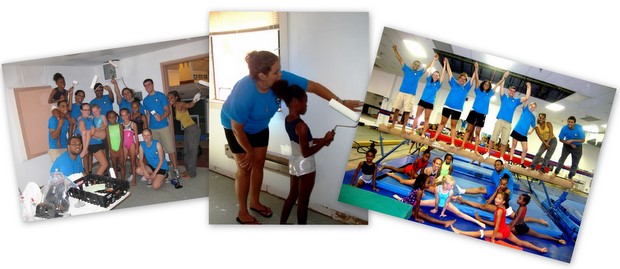 It was a busy day that started with the students clearing out old furniture and carpet from the office. The paint was poured and the brushes distributed, and each student took responsibility for an area of the room and worked diligently to finish painting the walls.
After a quick refreshment break, they returned to find eager, curious young children that were participating in the Bermuda Gymnastics Association's summer day camp. The ACE summer interns invited the young gymnasts to help with the painting and were then given a tour of the gymnastics facilities. The summer students then attempted to learn a couple of the less complicated routines.
After the last coat of paint and a final clean up the interns joined the young gymnasts and summer camp facilitators for a final run on the gymnastics equipment before saying goodbye.
"We had the opportunity to give back to a part of our community in need." Said Rebecca Conklin, Claims & Legal Intern at ACE Bermuda.
"Interacting with the young gymnasts was especially rewarding as they are the beneficiaries of our service. Not only was this day successful and gratifying, but it was also productive as we were able to strengthen our team building skills. We are grateful to ACE, the Centre on Philanthropy, and the Bermuda Gymnastics Association for allowing us this opportunity."
Jennifer Pitcher from the Centre on Philanthropy said "The day was a great success and it was a pleasure to meet the team. The feedback we have received from the BGA was very positive and they hope that ACE interns will participate in future Community Days as the enthusiasm and work ethic was greatly appreciated."
Read More About
Category: All