Scores of Longtails return to our shores each summer, with some finding their cliff nesting sites have been lost due to property developments and structural changes due to severe storms. Undeterred, one Longtail made himself quite comfortable hidden away at Coney Island this past weekend.
The photo below was captured this past Saturday [Aug.6] by photographer Richard James Lee who said, "I just happened to be at Coney Island doing a model photo shoot when I saw the Longtail go in its burrow, so unfortunately my model had to entertain herself in the water for a while while I got my photos."
"I was very lucky (excuse the pun), as I was able to take photos of two beautiful birds at the same time," continued Mr Lee.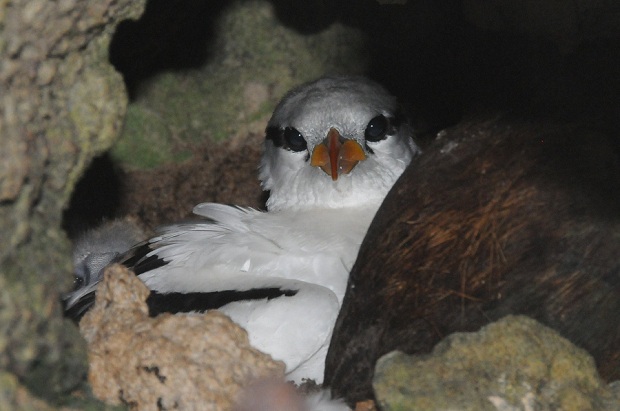 Bermuda Audubon Society president Andrew Dobson said, "The Longtail (or White-tailed Tropicbird) only comes ashore to breed, spending the rest of the year in tropical waters to our south. Returning anytime from late February, the Longtail pairs lay only one egg."
"There are an estimated 2,000 breeding pairs in Bermuda and our islands form the most northerly breeding colony in the North Atlantic. The breeding success of the Longtails is threatened by hurricanes and tropical storms which destroy sections of coastline and building development along the coast."
"Other threats include feral cats, disturbance from dogs and invasive feral pigeons. In an effort to help the species, the Bermuda Audubon Society has an active programme of installing artificial nest 'igloos'. For more information, go to Audubon.bm."
Read More About
Category: All, Environment