Flatt's Victoria captain Kijuan Franks won the toss and sent the defending champions Bailey's Bay to bat in their Eastern County match today [August 13] at the Sea Breeze Oval.
Bailey's Bay declared with the score on 448/6. Glenn Blakeney was their top scorer with 218 while Tre Manders added 106 and Stephen Outerbridge chipped in with 80.
Blakeney's innings saw him break the Eastern County Individual scoring record when he crossed Noel Gibbons' 183 against Flatt's in 1983. Blakeney faced 120 balls where he hit 16 sixes and18 fours while Tre Manders hit 7 sixes and 7 fours in his stay at the wicket.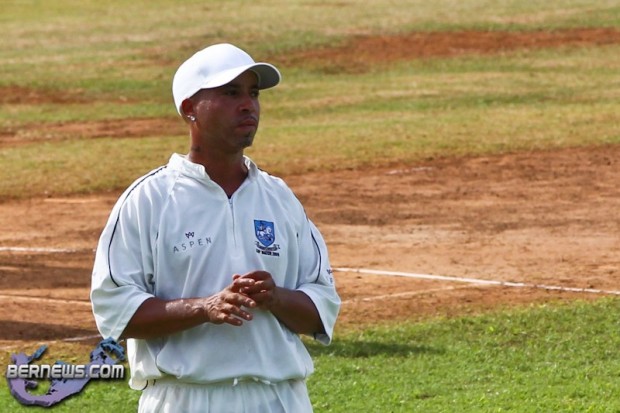 David Beddard was the pick of the Flatt's Victoria bowlers with figures of 7.0-1-52-2 and Dwayne Leverock bowled 13.2-0-73-2.
In reply Flatts Victoria were bowled all out for 153. Reggie Baker was their top scorer with 55 while Nelson Bascome added 20.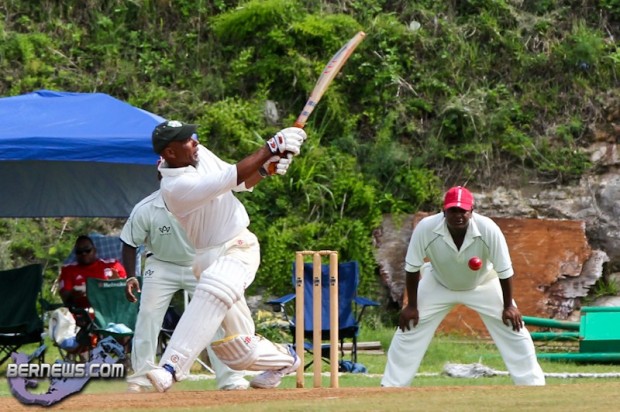 Kyle Hodsoll was the pick of the Bailey's Bay bowlers with figures of 10.-3-28-5 while Glenn Blakeney bowled 3.0-1-11-2.
Final Score: Bailey's Bay 448/6 Declared, Flatt's Victoria 153 All Out
Bailey's Bay Win by 295 Runs
Bailey's Bay Innings
218 (120) Glenn Blakeney st Kijuan Franks b Dwayne Leverock
..10 (32) Terryn Fray c Logan Phillips b Nelson Bascome
106 (131) Tre Manders Run Out
..80 (50) Stephen Outerbridge c Troy Dean b David Beddard
..21 (13) Rodney Trott c Rahji Edness b David Beddard
..00 (03) Kyle Hodsoll c Vernon Eve b Dwayne Leverock
..01 (01) Lateef Trott Not Out
..12 Extras (3b-3lb-6nb)
448 Total for 6 Wickets after 59.3 overs
Fall of Wickets: 1-67 (Fray), 2-299 (Blakeney), 3-370 (Manders), 4-447 (Outerbridge), 5-447 (R. Trott), 6-448 (Hodsoll)
Flatt's Victoria Bowlers
6.0-0-49-0 Ryan Belboda
7.0-1-52-2 David Beddard
6.0-1-35-0 Kijuan Franks
6.0-0-57-1 Nelson Bascome
5.0-0-49-0 Troy Dean
7.0-1-87-0 Vernon Eve
13.3-0-73-2 Dwayne Leverock
9.0-0-40-0 Regino Smith
Flatt's Victoria Innings
..14 (33) Vernon Eve b Kyle Hodsoll
..10 (27) Troy Dean c Terryn Fray b Kyle Hodsol
..00 (08) Regino Smith LBW Kyle Hodsoll
..23 (26) Logan Phillips b Lateef Trott
..55 (68) Reggie Baker c Lateef Trott b Tre Manders
..09 (17) Kijuan Franks c Lateef Trott b Cal Dill
..20 (35) Nelson Bascome c Burton Outerbridge b Kyle Hodsoll
..06 (04) Rahji Edness c Dage Minors b Glenn Blakeney
..00 (02) David Beddard b Glenn Blakeney
..06 (13) Dwayne Leverock b Kyle Hodsoll
..00 (03) Ryan Belboda Not Out
..10 Extras (5lb-3nb-2b)
153 Total All Out after 39 overs
Fall of Wickets: 1-23 (Dean), 2-25 (Smith), 3-28 (Eve), 4-54 (Phillips), 5-95 (Franks), 6-137 (Baker), 7-143 (Edness), 8-143 (Beddard), 9-147 (Bascome), 10-153 (Leverock)
Bailey's Bay Bowlers
10.2-3-28-5 Kyle Hodsoll
5.0-1-24-0 Burton Outerbridge
6.0-3-03-1 Lateef Trott
4.0-0-25-0 Dage Minors
3.0-0-26-0 Rodney Trott
5.0-0-16-1 Cal Dill
3.0-0-13-1 Tre Manders
3.0-1-11-2 Glenn Blakeney
Click photos to enlarge:
Read More About