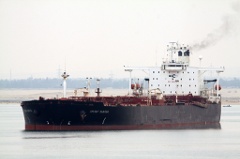 Bermuda's Frontline Ltd. has entered into an agreement today [Oct. 31] to sell its 1996-built Suezmax tanker "Front Hunter" [pictured] to VTN Shipping Group. The vessel will cease to trade in the spot tanker market, and delivery is expected to take place in November, 2011.
The sale will result in a net cash outflow of approximately $0.3 million, after repayment of bank debt, and the company expects to record a loss of approximately $29.6 million.
Frontline Ltd. is one of the world's largest oil tanker shipping companies. Its primary business is transporting crude oil. As of 2008 the company has one of the world's largest tanker fleets consisting of VLCC, Suezmax and Suezmax OBO carriers — 82 tankers in total with 18 more on order.
Read More About