The Construction Association Of Bermuda held a Fun Day this Sunday [Oct.9] from 1 – 6pm at Clearwater Beach. Crowds of co-workers, family members and friends turned out for a fun day of family oriented fairground activities.
The feature event was the Kings of Construction Challenge; a strong-man type competition pitting teams of construction workers against each other in feats such as the Truck Pull, Block Load, Tire Flip and Sand Shovel.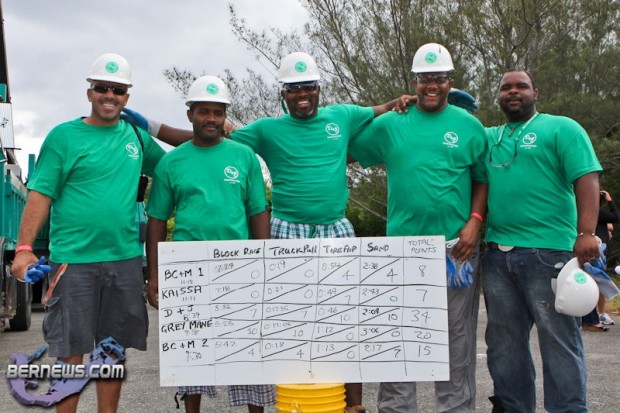 Spectators cheered the five teams representing construction firms D&J Construction, Greymane Contracting, BC&M and Kaissa as they battled against the clock and each other to win the title of the day.
Greymane Contracting's team leapt out to an early lead by winning the first two events. Their early efforts started to take their toll by the time they got to the Tire Flip, as they came a distant last in that event, which set up an interesting final event showdown between them and the team from D&J Construction.
Video of the Truck Pull:
D&J were the most consistent team of the day, and prevailed in the final event by perfecting the efficient move of a pile of sand from one end of the course to the other in the fastest time. The trophy, an engraved Ceremonial Shovel, will take pride of place in the D&J Construction offices. The final standings were D&J in first, Greymane in second, BCM2 in third, BCM1 in fourth, and Kaissa in fifth.
Video of the Tire Flip:
All proceeds from this sponsored event go to the CAOB's Scholarship Fund. The CAOB in partnership with the National Training Board is offering a $15,000 scholarship per academic year to qualified applicants looking to study engineering, surveying or estimating.
Video of the Sand Shovel:
Sponsors for the event included Island Glass, BF&M, D&J Construction, BAC, BCM McAlpine and Greymane. In addition, various companies provided donations that made the event possible: Bierman's, SAL, Dunkley's, Barritt's, Fairmont Southampton, Baptiste's, Belmont Hills Golf Club, Surface Trends, Correia Construction and Sea-M Electric.
Video of the Block Load:
Read More About