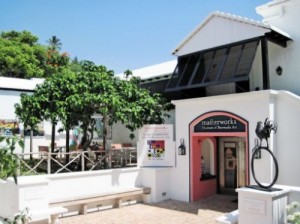 Want to give some homegrown gifts this holiday season?
The Masterworks Museum of Bermuda art will be the location for some convenient one-stop Christmas shopping next Saturday [Nov.19] featuring Bermudiana ranging from books to jewellery to cedar frames made by Westgate prisoners.
The event runs from 10 a.m until 4 p.m.
Among the Bermuda artists, craftsmen and writers participating are Susan Gibbons [Cards/other craft items], Hannah Emmerson [Painted Eggs], Suzie Hooper [Handpainted calabash Santas], Llewellyn Emery [Cedar work], Lynne Morrel [Silver jewellery & Paper Mache], Catherine Bell [Chocolate truffles], Helle Pukk [ceramics], Cindy Mitchell [Jewellery], Abi Kempe [Purses], Ami Zanmders [Coiled baskets & paper], Robyn DeSilva [Painted stemware], Donna Smith [Mosaics], Kathryn Garcia [Fabric/silk items], Laura Smith [Glass Artist], Alexandra Mosher [Jewellery], Dan and Deana De Silva [Art & crafty items], Masterworks students [Sachets], Doreen Sanders [Lavender neck wraps], Jennifer Rodrigues [Jennifer Rodrigues], Gregory Simons [Westgate prisoners cedar frames], Burrows Lightbourne [Wild Hogge Wine], Andrew Stevenson ["Whale Song" book], Christine Watlington [Bermuda Bio Diverse Diaries 2012], David Chapman ["Daddy & Me" books], Joan Aspinall [Bermuda children's books], Betsy Mulderig ["Tiny the Tree Frog" books], Don Grearson ["USS Bermuda: The Rise and Fall of an American Base" book], Nadia Aguiar ["The Lost Island of Tamarind" and "The Secret of Tamarind" books], Georgia Crowe Benevides and Kathryn Dean ["Bermuda" book].
Read More About
Category: All