Two Bermuda Dogs will be travelling to Orlando, Florida this week to compete in the prestigious American Kennel Club Eukanuba Invitational National Championship Dog Show to be held this coming weekend.
Thousands of top dogs from around the globe compete for $225,000 in prize money and the chance to be named National Champion, one of the biggest honours in the dog world.
The event will be held in conjunction with the AKC Agility Invitational and the AKC National Obedience Invitational, showcasing a multitude of canine talents under one roof.
The Bermuda Kennel Club said 20 BKC Registered dogs, and their owners, were invited to enter – and we two dogs going.
Below left to right – Cathy Gosling, Labrador Retriever Bella, Kathy Williams and Saluki Kal: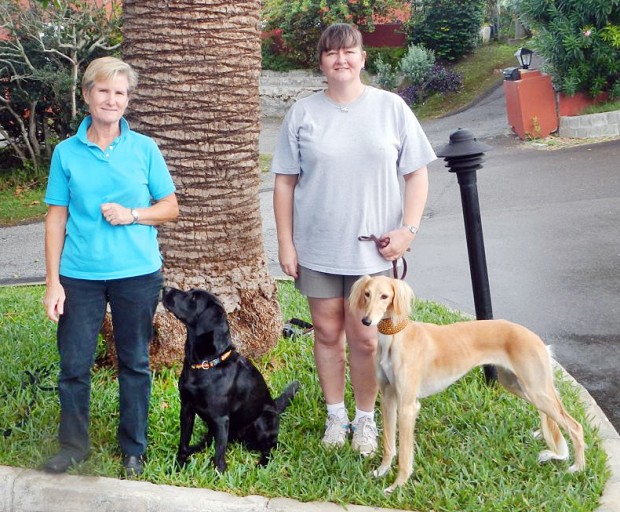 Kathy Williams' Saluki, Kali, registered name Bda Ch Ulmarra Tropical Ice at Winton, will compete in the Conformation Competition.
Conformation shows, also referred to as Breed Shows, are where each purebred dog is judged against the ideal breed type for their Breed, as described in its Breed Standard. Kali will initially compete in the Saluki Best of Breed competition.
The winner of this class will go on to compete against the winners of the other breeds in the Hound Group, and the winner of that will go on to complete in Best In Show, against the winners of all the other Breed Groups. Kali is a U.K. bred dog, and one of only three Saluki's on the island. This is the first overseas competition for this duo.
Cathy Gosling's Labrador Retriever Bella, registered name Demerara's Bella Donna UD, OA,OAJ, OTCH, will compete in the 20 inch high Agility Trials.
Dog Agility is a sport in which a handler directs a dog through an obstacle course in a race for both time and accuracy. Dogs run off-leash and the handler can neither touch the dog or the obstacles and neither food or toys may be used as incentives, so the handler's controls are limited to voice, movement, and body signals.
Bella is a Bermuda bred dog, from Ms Gosling's breeding out of a Sire and Dam both from the U.K. This is the fourth time travelling to compete at Agility Trials overseas for this pair, who are being sponsored by the Dog Training Club of Bermuda.
Read More About
Category: All