Bermudians have decked their homes with holiday cheer during the festive season, with numerous homes island-wide featuring Christmas-themed decorations.
The slideshow below features more than a hundred photos showing properties in St. George's Town Square, Crawl Hill in Hamilton parish, St. Mark's Road in Smiths, North Shore Road in Flatts, City of Hamilton, Pitts Bay Road and Shelton Road in Pembroke, Melville Estate Road in Devonshire, South Shore Road and Loughlands in Paget, and Ord Road and Middle Road in Warwick.
The seasonal decor features such holiday-themed adornments as bows, candy canes, elves, Nativity scenes, Santa, stars, gift-wrapped presents, reindeers and more. Areas decorated included roofs, lawns, stairs, balconies, gates, hedges, and walls.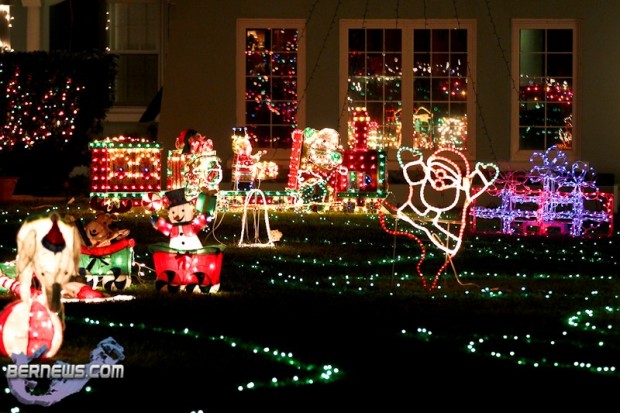 Blending modern technology with traditional Christmas celebrations, some properties boast animated decorations such as a revolving snow globe [complete with illuminated "snow" dropping down], Santa Claus delivering presents in an airplane with the propellers spinning and the Jolly Old Soul popping out of a chimney with the assistance of a reindeer.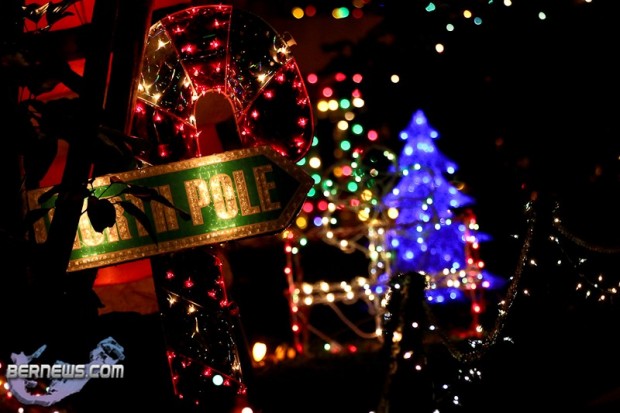 One house in Devonshire features a lawn full of handmade wooden decorations. The plywood Christmas items were made by the homeowner, who has spent many years perfecting his craft. Cut and painted Santa Claus, Mrs Claus, snowmen, reindeers, toy soldiers, and angels are scattered all over the property.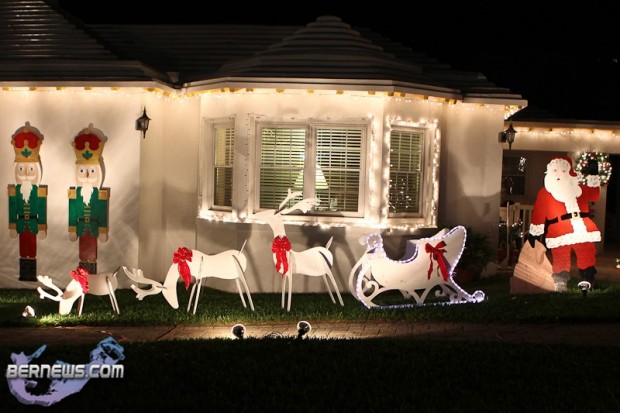 One resident in the western end of the island said although he had been decorating his house for a number of years, he had actually not planned to put up the lights this year. But he broke down because area children kept asking him when his traditional Christmas lights would be illuminating the neighbourhood. "That's who I do it for, " he said. "The children."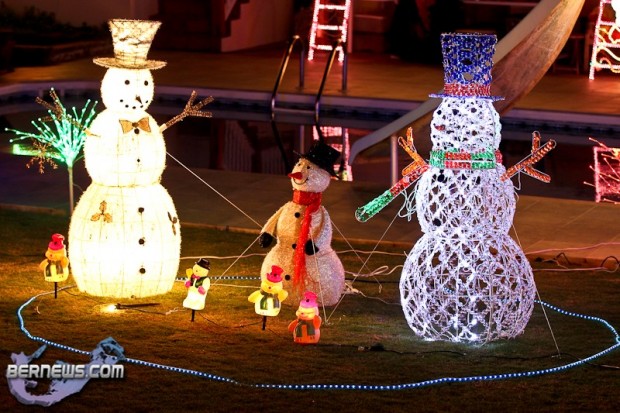 Some residents not only had the sights of Christmas on display, but also the sounds, with Christmas music being heard at some of the houses. One homeowner went above and beyond, serving Christmas cookies one evening to people stopping by to see decorations on her house.
Click to enlarge photos:
Read More About