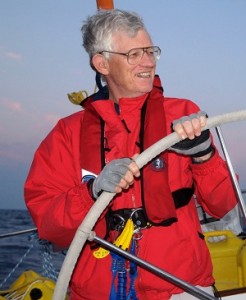 [Written by John Rousmaniere] After several days of banging into it, you're feeling a little weary and a trifle sore. Then Gibbs Hill Lighthouse rises above the blue-green sea, and, almost tasting the rum punch, you sail a little harder.
You're almost there, at Bermuda. I've raced to Bermuda nine times and written the race's history (A Berth to Bermuda), and there are very few tests of blue-water seamanship as iconic, popular, and accessible as the 635-mile Newport Bermuda Race.
One of few races sailed almost entirely out of sight of land, it was founded in 1906 as a bold challenge to traditional notions of who should go to sea in what vessels. Thomas Fleming Day, the visionary founder, was convinced that blue water is a suitable playground for amateur sailors in normal sailboats.
Drifting around in a bay or harbor "will never do for those that have the love of the great ocean planted deep within their hearts," Day declared. "Sailors wanted to get a smell of the sea and forget for the time being that there is such a thing as God's green earth in the universe."
Skeptics predicted those first Bermuda racers wouldn't make it to the finish. It was even rumored that funeral wreaths were delivered to the fleet so the sailors would be prepared to make a decent burial at sea. That didn't scare three crews from starting, or discourage Thora Lund Robinson from being the first of many women to race to Bermuda.
In 47 races, only two boats have been lost – one in a fire, the other running aground on Bermuda's reef. Yet the race is a test, and safety rules have always been enforced. Every crew is evaluated, every boat is inspected – first-timers (who make up one-quarter of the fleet) and old-timers alike.
Typically, after the start you beat away from Newport into a damp, chilly first night. On Day 2 the air and water temperature rise into the 70s and higher, the sea roughens, and you come under the command of your new lord and master, the Gulf Stream. The race makes good on its nickname, "The Thrash to the Onion Patch." There are squalls. Reefs are tied in. Sailors get a little damp or very damp, depending on their duties and positions.
Once through the Stream, on Day 3 you're in the shifting winds and currents of a vast patch of water ironically nicknamed Happy Valley. After another day or more, Gibbs Hill Lighthouse rises over the horizon ahead.
You work your way around the reef to the finish line off St. David's Head, and there are high-fives and hugs all around (a Bermuda Race develops close bonds). Inhaling the sweet smell of oleander, you clean up the boat as you power up the winding channel to Hamilton and the delights of the long post-race party, ending with the spectacular prize ceremony at Government House.
Whether or not you have won silver, you glory in the profound satisfaction of having raced to Bermuda.
[Photo courtesy of Richard Pisano]
Read More About