[Written by John Rousmaniere]
The Newport Bermuda Race has long been well known for the variety of the challenges it throws at sailors. Sometimes there are calms, at other times storms, often there's overcast, and occasionally there is the distraction of a stunningly beautiful night.
This year, a full moon rose over the fleet with such brilliance that one sailor [Bermuda Race Organizing Committee Chairman A.J. Evans, sailing in Vamp]took a break from his steering and sail-trimming duties to send out an email at 2 o'clock one morning saying, "Spectacular evening of sailing here on a gentle sea with a decent breeze under a full moon and stars."
The sea is not always so pleasant. When weather forecasters predicted before the start on June 17 that the entries would be battered by brutal storms, 50 crews dropped out, leaving 133 boats start the race off Newport, RI, on June 17. The grim forecast turned out to be correct, but only in the far eastern part of the race course. The few boats sailing there survived the 45-knot winds with discomfort but no reported damage, and sailed on to Bermuda.
Warrior Won an Xp44 skippered by Christopher Sheehan,   from Larchmont YC New York,  is provisionally winner of the St David's Lighthouse Trophy Photo: Tom Clarke/PPL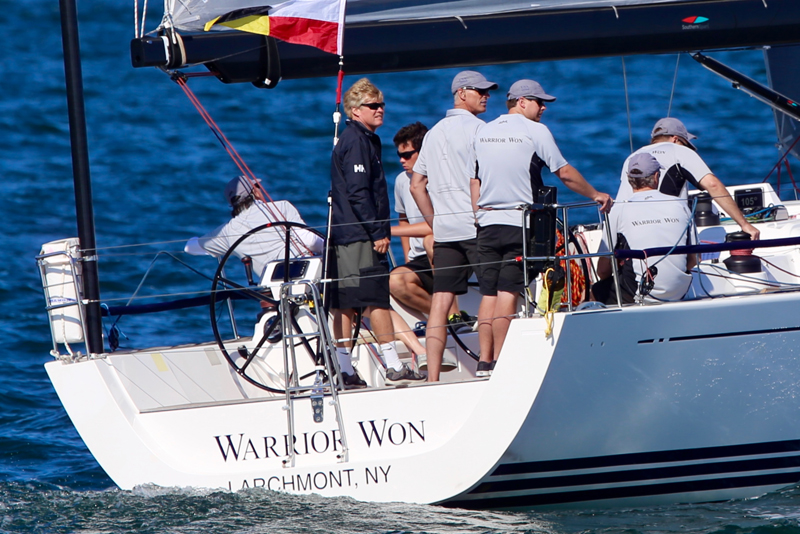 The crews were also resilient as well as creative in the strategies they chose to deal with the race's other challenges. The 100-foot sloop Comanche, in the race's Open Division, set out to break the 635-Newport-Bermuda sailing speed record. The intricate course chosen by navigator Stan Honey to find favorable wind and avoid unfavorable current led to a speed record of 34hrs 42min 53sec, for an average speed of 18 knots.
Well astern of Comanche, boats in the race's four other divisions managed the typical rough Gulf Stream waters, and then dealt with a cold eddy, a large pool of swirling cool water, that forecasters had predicted would provide a favorable boost of current toward Bermuda. Some navigators intentionally sailed their boats into the eddy. Others who believed this was too good to be true kept their distance—correctly, it turned out. The eddy had shifted position and the boats in it were set back, not forward. There were more surprises all the way to the island. "I've sailed many Bermuda Races," said Brad Willauer, in the Cruiser Division entry Breezing Up with a family crew, "but I don't recall ever sailing one when we didn't get a push from a favorable current."
H L Devore, navigator on the St David's Lighthouse trophy winning yacht Warrior Won, shares computer weather and Gulf Stream data with other navigators Photo Barry Pickthall/PPL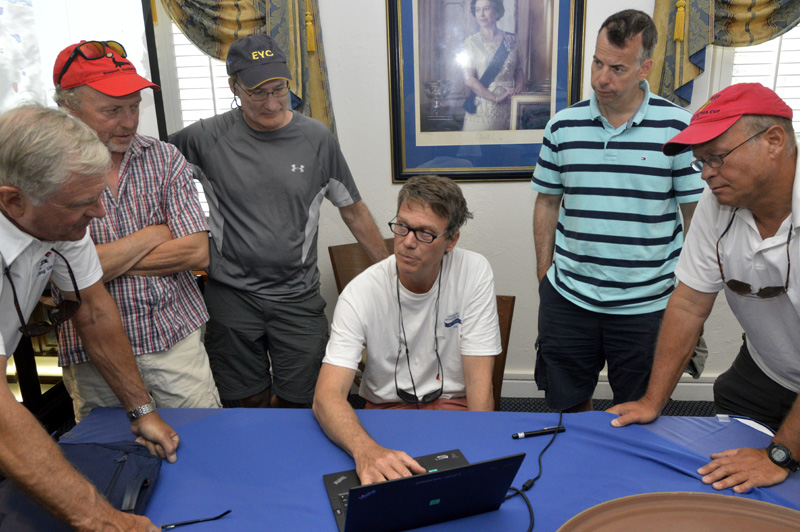 The boat in the St. David's Lighthouse Division that came out best in these perplexing conditions was Warrior Won, a 44-foot sloop. Her hard-working navigator H.L. Devore, set a course miles east of the eddy, going so far as to sail at right angles to the rhumb line to Bermuda in order to get farther away.
Stan Honey, navigator aboard the record setting Comanche Photo Barry Pickthall/PPL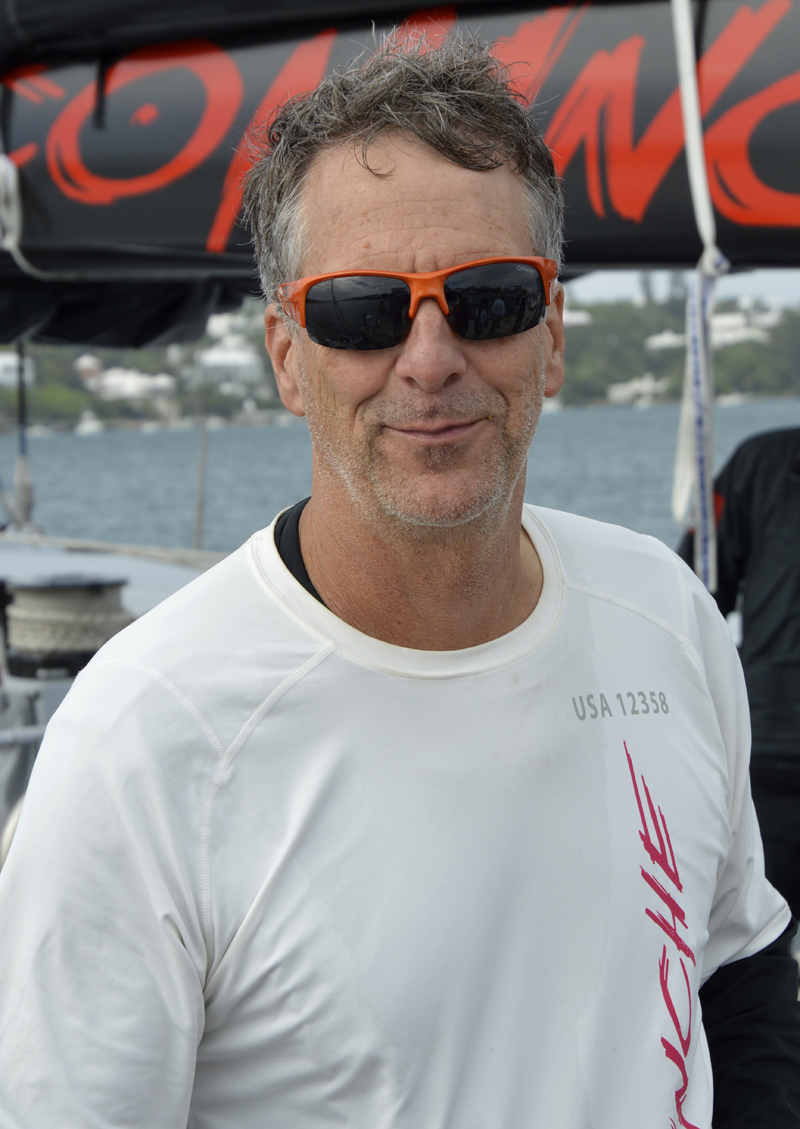 Obsessively checking the weather forecasts—Devore claimed he did 200 downloads to Warrior Won's computer in two days—Devore and his shipmates neared Bermuda with a light following wind in a pack of six similarly sized boats, all of them jibing aggressively down the course to St. David's Head as though they were small boats racing for an Olympic gold medal.
The first boat to finish in this group [and the second in the race after Comanche] was the 41-foot sloop High Noon, with a crew of seven well-trained teenagers and three adults. Warrior Won finished close enough behind for her time allowance to bring her ahead of HighNoon and win the division.
His Excellency, the Governor of Bermuda, George Fergusson meeting Peter Becker, skipper of High Noon, and his daughter Carina during the Governor's tour of the RBYC dock today. . Photo Barry Pickthall/PPL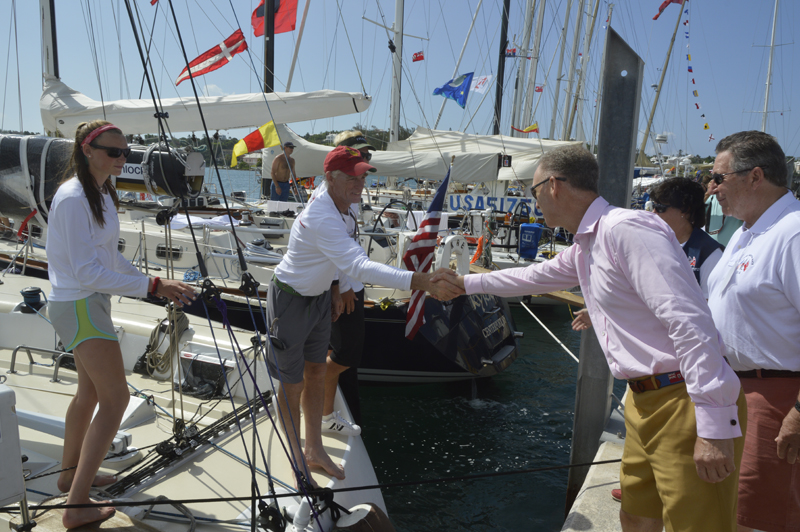 These changing forecasts and conditions affected the other four divisions, too. In the Double-Handed Division, Zachery Lee and his crew Gus Stringos felt some pressure not to enter Yankee Girl, a Morris Justine 36 sloop, but they did start under an agreement that should conditions become threatening, they would turn back. They went hunting for the cold eddy, but the wind did not cooperate and so they sailed to Bermuda within 30 miles of the rhumb line, mostly reaching and running, and with some interesting company. "There were a lot of nice spottings of whales, porpoises, and birds," Lee recalled after the race. "A Minke whale came up alongside and swam with the boat."
Class 0 rivals, the 2-masted schooner America, racing neck-and-neck with the 3-masted schooner Spirit of Bermuda Photo Daniel Forster/PPL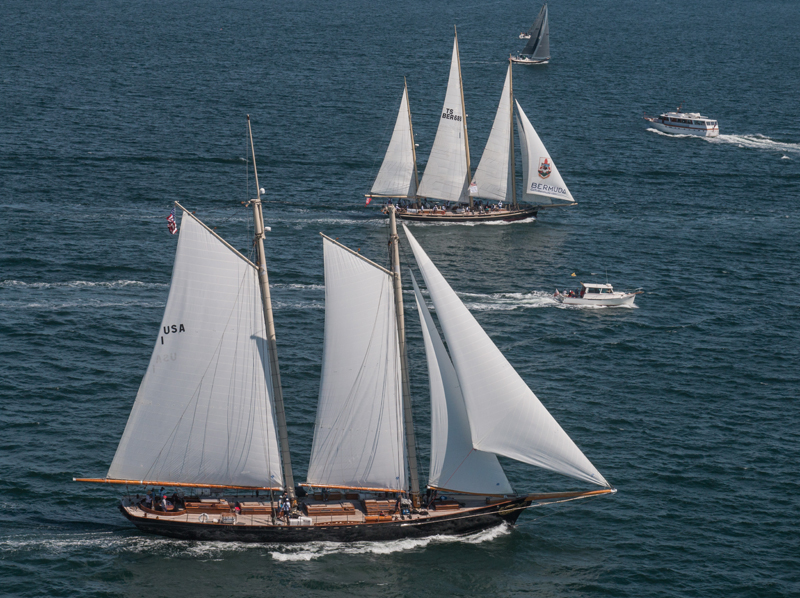 But their AIS [automatic identification system, required in Double-Handed boats] tracked opponents' positions and maneuvers as they ran before the wind to the finish. Lee hand-steered though all but one of the last 24 hours of the race. When Lee later told a visitor, "I'd like to attribute my success to a good crew and lots of luck," what went unstated was the power of aggressive sailing tactics.
Yankee Girl  a Morris Justine 36 skippered by Zachary Lee, winner of the  Double-Handed Division  Photo Daniel Forster/PPL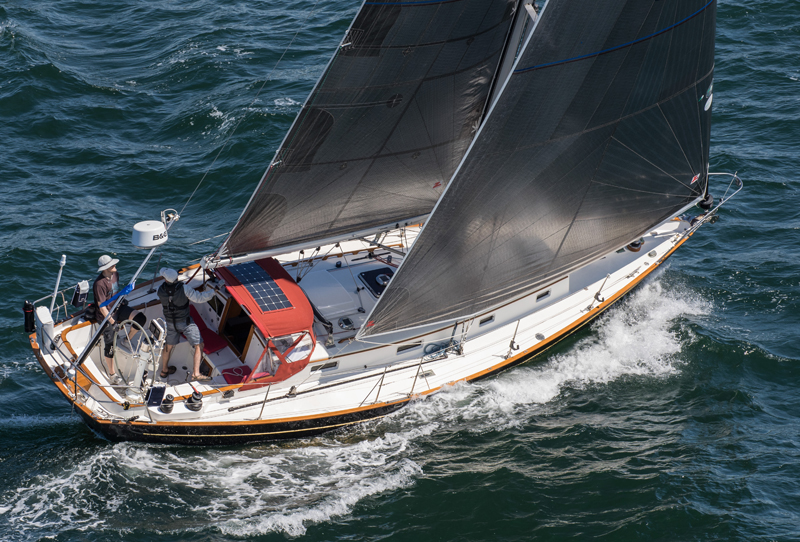 The Cruiser Division's name suggests that these boats are sailed in a more relaxed way than the others. In some ways that is true. "I don't like beating to Bermuda," said Brad Willauer. "Nobody does." As the 44-foot yawl Inisharon neared Bermuda on the last night of their race, crew member Mark D'Arcy posted the night's menu: "Tonight, chicken and rice for dinner washed down with a lovely vintage of sports drink topped off with some butterscotch cookies. What more could one need?" And yet D'Arcy later wrote, "We are approaching Bermuda and as other boats converge our angles of approach will continue to get narrower and we will once again see boats which will be an exciting sight. Currently, we have a competitor on our tail, and hope we can keep them there."
The division winner, which avoided the eddy, was the Mason 43 Shearwater, a powerful, heavy boat that, to judge by reports, was raced as hard as the high-performance entries.
Shearwater a Mason 43 skippered by  Daniel Biemesderfer  from Stonington Harbor YC  looks set to win the cruiser division Photo Daniel Forster/PPL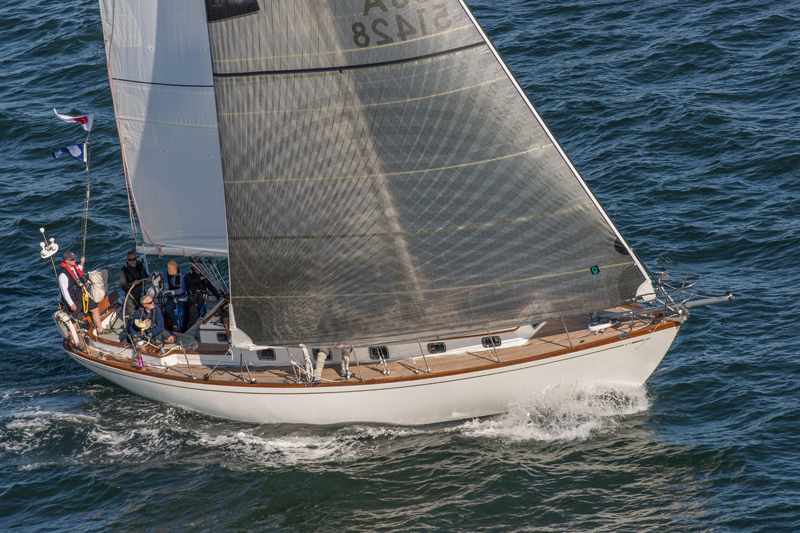 The oldest boats in the fleet, at least in design, were in the Spirit of Tradition Division. Until this year, the replica Bermuda "sloop" Spirit of Bermuda has not had any competition in Bermuda Races. But this year America, a semi-replica of the yacht whose name is on the America's Cup, came around from San Diego and entered the race against her along with a superyacht, Altair, and a cat-rigged schooner, Farfarer. The sight of these yachts on one starting line was entrancing. Spirit of Bermuda went on to win the race.
Re-run the Race
Virtual spectators can watch the race unfold as their favorite yachts, skippers, or crewmembers in this 635-mile ocean classic tack and gybe their way through the Gulf Stream and hunt for the wind in the 'happy valley' north of Bermuda. All boats in the 2016 fleet have been tracked by YB satellite trackers as live as it can be on Pantaenius Race Tracking — www.pantaenius.com/NBRtracking — your link to all the action in the race.

Read More About