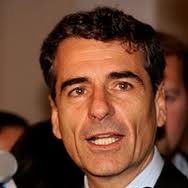 Chile's former finance minister and potential presidential candidate Andres Velasco [pictured] has joined Hamilton, Bermuda-based Lazard Ltd. as a senior adviser, the financial services company said in a statement.
Velasco, who managed Chile's economy during the 2008 and 2009 financial crisis, also is a visiting professor at Columbia University's School of International and Public Affairs and founding partner of Santiago-based economic research company SCL Partners.
Lazard offers financial advisory and asset management services from some 40 offices in the Americas, Asia, Australia, and Europe.
Its investment banking arm provides advice on mergers and acquisitions, strategy, and restructuring and corporate finance services; specialties include the consumer, health care, energy, real estate, media, and telecommunications sectors.
Lazard has some $155 billion in assets under management, most of it in international equities; it primarily serves institutional investors as well as governments and wealthy individuals.
Read More About