For the third year, the Argus Group and The Centre on Philanthropy are providing the community with a special way to give back –Argus Walks the Walk with The Centre on Philanthropy 5K charity walk. This annual event is a unique fundraiser in that participants choose the charity or nonprofit that they want a portion of their entry fee to benefit.
The event takes place on Sunday, February 26 and starts at 8.30am, with a warm-up session at 8.15am. The fully marshalled walk follows a new route starting and finishing on Wesley Street in front of the Argus and Centre on Philanthropy offices, 14 and 16 Wesley Street, Hamilton.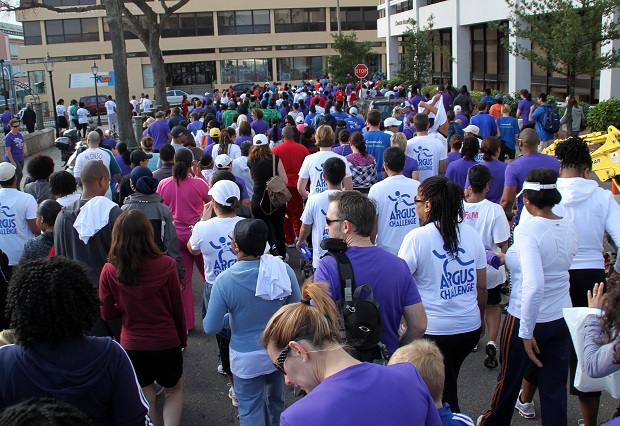 Online registration is available at www.racedayworld.com or register in person at The Centre on Philanthropy, Sterling House, 16 Wesley Street in Hamilton. The registration deadline is 4pm on Friday, February 24.
The first 700 participants will receive a free t-shirt bearing the event's logo, which can be picked up from the Argus Building between 10am and 2pm on Saturday, February 25. Walk-in late registrations will be accepted on Saturday during the t-shirt collection hours.
The entry fee is $25, with $20 from each entry being donated to the charity selected by the participant and $5 going to support www.VOLUNTEER.bm, The Centre's online resource for pairing charities with volunteers.
To identify or search for charities by type or cause, participants can visit The Centre on Philanthropy's website centreonphilanthropy.org and use its Nonprofit Directory. After the walk, prizes will be awarded for the largest corporate and youth teams, as well as the team with the most spirit.
Pamela Barit Nolan, Executive Director of The Centre on Philanthropy, says: "Since joining with Argus in 2010 for the launch of the Walk the Walk, the event has proven to be incredibly popular. Last year, over 700 community members participated, raising close to $20,000 for 87 different charities and nonprofits. Join us this year to break that record!
"Form teams with your work colleagues, make this event the focal point of a family reunion, celebrate your birthday or anniversary by getting friends to walk with you, get new and old supporters/donors out to get to know each other and walk for your cause – everyone can participate!"
Alison Hill, Chief Executive Officer of the Argus Group, says: "We are excited to be partnering again with The Centre on Philanthropy on this unique fundraising event. As a local company, Argus takes its responsibilities to strengthen and add value to the community in which it operates very seriously.
"We actively support a wide range of charities, local organisations and initiatives, and this single event's ability to benefit many charities is certainly something we are proud to support."
For more information about the walk, contact Jennifer Pitcher at The Centre on Philanthropy on 236-7706 or email jpitcher@centreonphilanthropy.org.
Read More About
Category: All