The Argus Group today [Feb 11] announces its ongoing sponsorship of the annual Argus Walks the Walk with the Centre on Philanthropy 5K to be held on February 28, 2016. The fundraiser is a one-of-a-kind event in which participants walk on behalf of their favourite charity.
Registration is $25; $20 is donated to a registered charity of the participant's choice and the remaining $5 goes to support Volunteer.bm, The Centre on Philanthropy's online resource for connecting volunteers with local charities.
The walk starts and finishes in front of the Argus building on Wesley Street. There is a group warm up at 8:15am and the walk begins at 8:30am.
Elaine Butterfield, Executive Director of The Centre on Philanthropy, says: "I would like to thank Argus for their ongoing sponsorship of this unique fundraising event.
"Last year, 1,094 people participated in the walk raising $34,438 in support of 125 charities. We encourage all charities to take advantage of this excellent fundraiser. Register today and help us to have an even more impactful event this year!"
Michelle Jackson from Argus and Elaine Butterfield at the Centre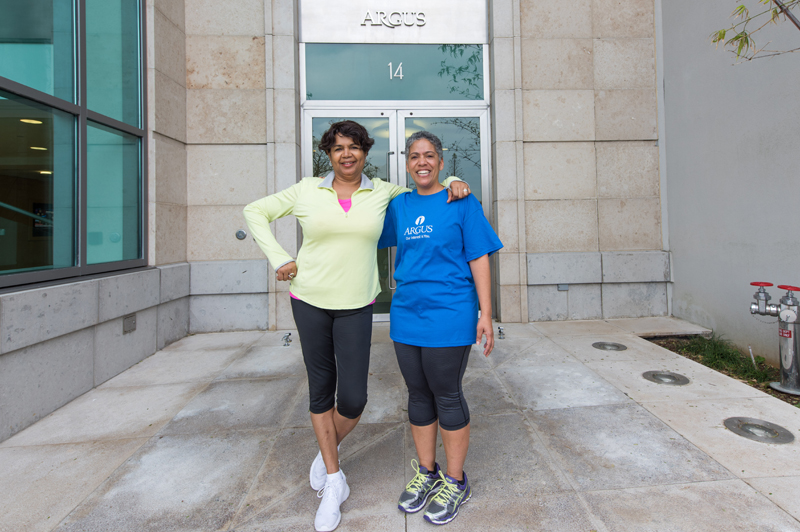 Michelle Jackson, Executive Vice President, Group Insurance of the Argus Group, says: "This is our seventh annual fundraising walk with The Centre on Philanthropy.
"The event is a fun way to promote walking as a part of a healthy lifestyle and it offers the community a unique way to donate to charity. I encourage you to register with friends, family or colleagues and enjoy a community walk in support of your favourite cause."
Participants are encouraged to register as teams who walk together in support of the same charity. After the walk, prizes will be awarded to the largest youth, non-profit and corporate teams as well as to the teams with the best coordinated outfits, best choreography and best cheer!"

Slideshow of last year's Walk the Walk:
.
To register online for the Argus Walks the Walk with The Centre on Philanthropy 5K, visit www.racedayworld.com. Alternatively, walkers can register in person at The Centre on Philanthropy at Sterling House, 16 Wesley Street, Hamilton.
The registration deadline is 5pm on Friday, February 26 and the first 1,200 registrants will receive a free Argus Walks the Walk with The Centre on Philanthropy T-shirt, which can be collected from the Argus Building between 10am and 2pm on Saturday, February 27.
For a list of registered charities, visit The Centre on Philanthropy's website: www.centreonphilanthropy.org/nonprofitdirectory.

Read More About
Category: All