Teen Services held their 29th Annual Bermuda Outstanding Teen Awards Saturday [Mar.24] at the Fairmont Hamilton Princess Hotel.
The Harborview Ballroom was filled with anticipation as 104 nominees were joined by dignitaries, family and friends to hear the winners of the night.
The evening was hosted by funny man Nadanja Bailey with awards being presented in ten different categories as well as the overall Outstanding Teen 2012.
Before the presentations, Deputy Premier Derrick Burgess gave some opening remarks, then all 104 nominees were announced and called to the stage to receive a gift.
Education Minister Dame Jennifer Smith was on hand and addressed the crowd offering her congratulations as well.
The award winners were:
Community Service: Willis Steede of The Berkeley Institute and Kyla Sinclair of Mount Saint Agnes Academy
Academic Achievement: Daniel Pell and Hannah Gibbons both of Saltus Grammar School
Leadership: Willis Steede of The Berkeley Institute and Leanna Hall of CedarBridge Academy
Sports: Khaivon Castro Of CedarBridge Academy and Akeila Richardson of CedarBridge Academy
Perseverance: Matthew Correia of Saltus Grammar School and Tabia Butterfield of The Berkeley Institute
Most Progress: Chiamo Knight of CedarBridge Academy and Tabia Butterfield of The Berkeley Institute
Spiritual Leadership: Trae Trott of The Berkeley Institute and Sheneve Campbell of CedarBridge Academy
Visual Arts: Miles Dill of Warwick Academy and Grace Edwards of Mount Saint Agnes Academy
Performing Arts: Jordan Renfro of The Berkeley Institute and DeAzha Chambers of CedarBridge Academy
Vocational Technical/Arts: Bakari Simons of The Berkeley Institute
Outstanding Overall: Akeila Richardson of CedarBridge Academy
CedarBridge Academy principal, Kalmar Richards, said today "We are extremely pleased with the accomplishments of our students and notably proud of Akeila Richardson for also winning the Outstanding Teen Award 2012, a first for CedarBridge Academy."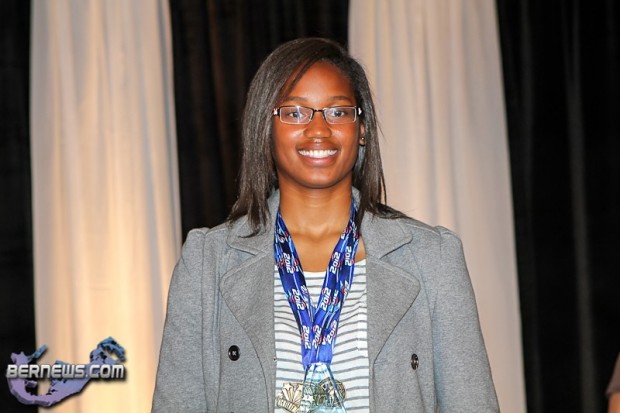 "Also, this is the first year that we had two students win the male and female awards for one category and this year also marks our highest number of awardees. Well done to our nominees and winners! Our students are BIG TIME!"
Click to enlarge photos:
Read More About