[Updated] Dozens of people lined the PW dock on Front Street, after a visiting group aboard the "Seafari" reeled in a 1289lb Blue Marlin this afternoon [May 30].
Well known local fisherman Alan Card was aboard the 70-foot Betram assisting as a local guide, and said it was the largest blue marlin he had personally seen caught in his career.

-
The 15-foot-long fish had a 4.5-foot-long tailspan, and took 4 hours to land with everyone aboard the boat assisting, and the fish dying before it was landed. The fish was caught on the south-east side of Argus Bank this afternoon.
The "Seafari" is a visiting boat from the United States, with over a dozen visitors aboard. The owner Rich Davies, a native South African who makes his home in North Carolina, said it was also the biggest fish he had ever caught.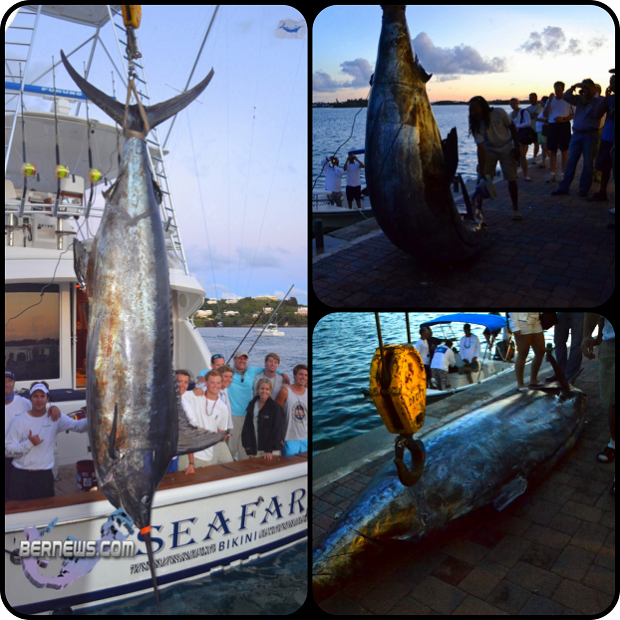 This was the first time the "Seafari" has visited Bermuda, and today was only their second day fishing. The boat spends most its time in Florida, and also travels up and down the East Coast and to the Bahamas.
The Captain also said this was also the biggest fish he has ever caught, with the next largest a 1100lb fish caught in the Pacific ocean off Hawaii.
He said today's catch gave him both "his Pacific and Atlantic" big fish, prompting Bermudians present to jokingly point out that Bermuda topped the charts.
Boat owner Mr Davies thanked God for the catch, and said in a nod to the big catch there will be a donation made to an orphanage in Zululand in his native South Africa.
He called it a "wonderful day" in Bermuda, and had words of praise for local fisherman Alan Card who served as the group's local guide.
A photo gallery of the fish being cut up is here on Picasa, and a video of it being chopped up can be viewed here on Youtube. Viewer discretion is advised for those not used to, or dislike, the sight of fish being cut up.
Click to enlarge photos:
Read More About