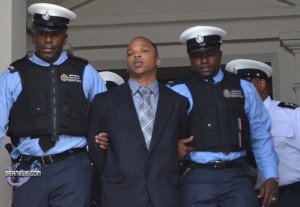 Kevin Andre Warner — who was convicted of murdering his friend and jailed for 35 years — launched an appeal in Court yesterday [June 11].
In July of last year he was sentenced to life in prison, with a stipulation he must serve 35 years before being eligible for parole. Mr Warner, 22, will be eligible for parole in 2046 when he is 56 years old.
At around 1am on May 28th 2010, 24-year-old Dekimo "Purple" Martin was hit by multiple gunshots at his Sandys residence. In June 2010 Mr Warner was charged with the murder, with his trial starting in May 2011.
During the trial the jury heard that Mr Warner and Mr Martin — who were friends —  had spent time together during the day and were seen outside talking together the night of the murder.
Yesterday defence lawyer Elizabeth Christopher told the Court of Appeal that the trial judge did not direct the jury well, failing to highlight weaknesses in one eyewitness' testimony. The victim's sister had testified at the trial that she saw a man fitting Mr Warner's description running away after her brother was shot.
Ms Christopher told the Court that at that time [1am] it was dark, and also that the shooter would have been 75 feet away which makes an identification difficult, and is something she said the judge should have highlighted to the jury. Ms Christopher also brought up other matters, saying that showing the jury certain photos was prejudicial, as was testimony from the police about Mr Warner's gang connections.
The appeal is expected to continue today.
[File photo]
Read More About
Category: All, Court Reports, Crime, News