[Update: Barrington Levy will not perform, and Wayne Wonder will perform instead] Chewstick is at it again, producing the 7th Annual BeachFest Emancipation Celebration at Horseshoe Bay Beach.
This year's event kicks off on Wednesday night with a concert featuring Barrington Levy and The Detour Band, Trevor Hall and Dead Prez. Included in the entertainment lineup for the evening are Canjelae, Joy T Barnum, Jelani, Haz, I-Vibes, Imari and Hannah Eggen.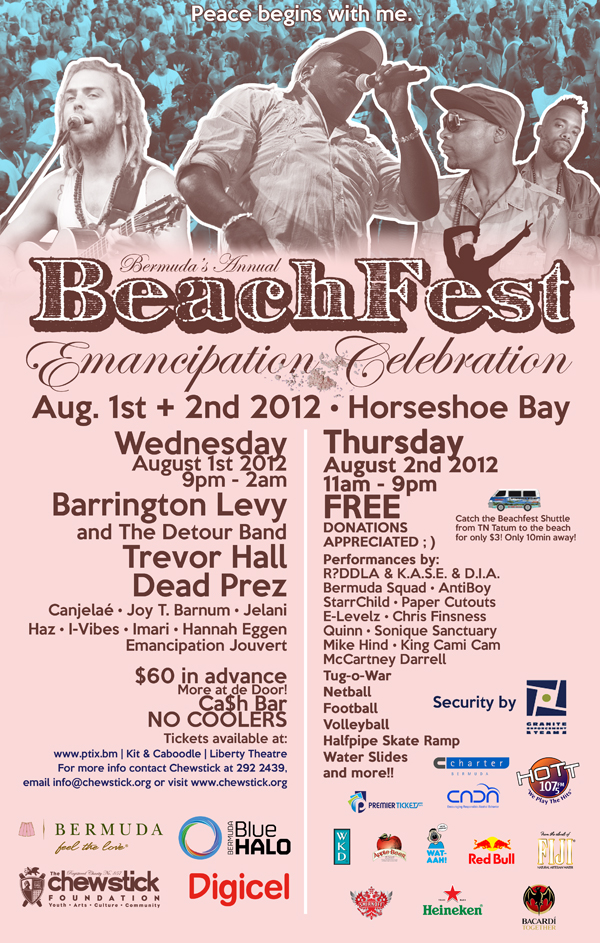 Gates open on Wednesday at 9.00pm with the show expected to go on until 2.00am. Tickets are available in advance for $60 with the price increased at the gate.
On Thursday [Aug 2] the celebration continues starting at 11.00am with entertainment scheduled throughout the day. Performances are scheduled to include R?ddla & K.A.S.E. & D.I.A., Bermuda Squad, AntiBoy, StarrChild, Paper Cutouts, E-Levelz, Chris Finsness, Quinn, Sonique Sanctuary, Mike Hind, King Cami Cam and McCartney Darrell.
Events planned include tug-o-war, netball, football and volleyball. On site will be a halfpipe skate ramp, water slides and more. Admittance is free though organizers will be accepting donations. There will be a Beachfest Shuttle transporting those who wish to park at TN Tatem School for a cost of $3.00.
A spokesperson previously said, "BeachFest has always been the biggest event on Chewstick's calendar, and we have always approached it as a fundraiser and an event that serves to showcase Bermudian arts, history and cultures in a tradition of joy, appreciation, and reverence in recognition of the Emancipation of slaves across the United Kingdom and its colonies."
"Not only is it a chance to represent on behalf of your favourite Cup Match team in front of thousands of your peers but it is a moment when Bermudians, ex-pats and everyone in between can all come together for a common goal of celebration of youth, arts, culture and community."
Update 8.29pm: A Chewstick spokesperson said, "Due to circumstance beyond our control, international reggae star Barrington Levy will not be featured in the lineup of performers for the 7th Annual BEACHFEST Emancipation Celebration, taking place on Horseshoe Bay.
"Attendees will instead sway to the music of reggae fusion artist, Wayne Wonder, who will treat attendees to favourites like "No Letting Go" and "Bounce Along". He has prepared an epic performance that some believe could be better than what Mr. Levy had in store. This change to one-third of the amazing festival lineup has changed the momentum, but not the focus of this eclectic community event."
Update: Tickets will be $50 and the gate will open at 7pm.
Read More About
Category: All, Entertainment, Music, News