Capital G Investments Limited [CGIL] today [July 24] announced the appointment of an extended slate of independent directors to its board under the chairmanship of Mr Clarendon Hugh (Hal) Masters. CGIL is a wholly owned subsidiary of Capital G Bank Limited, and is responsible for servicing the investment management needs of private client and institutional relationships on behalf of the Bank.
James Gibbons, Chairman of Capital G Bank, said, "We are extremely pleased to announce the extension of our Board to include these experienced independent Directors, as we position the Company for further expansion. Over the past several years, Capital G Investments has grown significantly and diversified its investment business to include private client, institutional and captive solutions. The appointment of the new Directors marks the start of a new stage in CGIL's growth, to which their collective experience and expertise will be integral."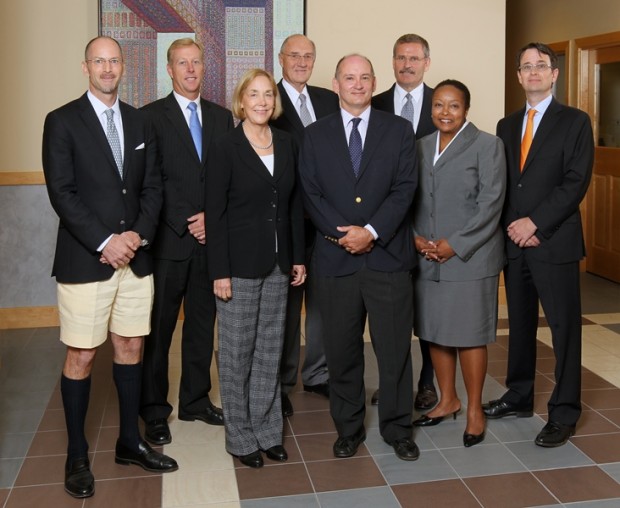 Mr Masters said, "I am delighted to chair the Board at this pivotal point in the growth of CGIL. It is an honour for me to serve in the company of such successful business professionals. The Company's recent growth has been rapid, with the successful integration of new products and services in conjunction with our recent acquisitions. The focus for the Company's management team and Board of Directors is now on organic growth initiatives, and a further expansion of our Institutional business."
President and CEO of CGIL, John Johnson, said, "Our vision of CGIL as an industry leader requires the combined efforts of our entire team from the Board, down through both our management and staff. It is our ability to deliver quality products, combined with outstanding service which differentiates our business when it comes to delivering practical solutions for our clients. We are confident that this Board will meet the needs of this rapidly expanding company both here in Bermuda and throughout the region."
The Directors:
The Hon. Sir J. David Gibbons
Sir David was Premier of Bermuda from 1977 to 1982, during which time he also held the portfolio of Finance Minister. He is the CEO of Edmund Gibbons Limited, Chairman of Colonial Group International and Independent Director of Nordic American Tankers Limited. Formerly, he was Chairman of the Bank of N.T. Butterfield, a Director of Massachusetts Financial Services and Chairman of the Bermuda Monetary Authority. Sir David holds a BA in Economics from Harvard University.
Mr James Gibbons
Mr Gibbons has previously served as a Director of Gibbons Management Services Limited, as Managing Director of Gibbons Deposit Company, and President and CEO of Capital G Limited. He is currently Treasurer of Edmund Gibbons Limited, Chairman of Capital G Bank Limited, and a Director of Harbour Trust Limited. Additionally, he holds positions as President of Bermuda Air Conditioning Limited, and as an Independent Director of RenaissanceRe Holdings Limited. He received his BSBA in Finance from Georgetown University.
Ms Anne N. Kast
In 1991, Ms Kast founded Kast Investment Management Limited, which was amalgamated with Capital G Investments Limited in 2010. Ms Kast retired from her position as President of Kast Investment Management in 2012.
Mr Hal Masters
Mr Masters is currently the President and a Director of Midsea Consulting Limited. He was previously a Vice President of the Bank of N.T. Butterfield and Managing Director of Butterfield Fund Services (Bermuda) Limited. He is a member of the Royal Chartered Institute of Directors. Mr Masters earned his BA at Williams College, and MBA (Finance) at Babson College, both in Massachusetts. In addition, he attended the Western Executive Program at the University of Western Ontario.
Mr Joel Schaefer, CFA
Mr Schaefer held the position of President and CEO of CGIL for ten years. During his time with the Company, he oversaw the acquisitions of Assante Asset Management (Bermuda) Limited and Orion Limited, as well as, the amalgamation of Kast Investment Management Limited. In addition, he was co-CIO for Capital G Bank. Mr Schaefer is now President and Chief Investment Officer for a family office registered in Bermuda.
Mr William P. (Bill) Stewart
Mr Stewart is Executive Chairman and Portfolio Manager of W.P. Stewart and Company, Limited. He began his career on the floor of the New York Stock Exchange. Following this, he worked as an analyst/registered representative for Spingar, Heine and Company, and for Pyne, Kendall and Hollister in the same capacity. For the latter company, he also served as Director of Research, General Partner for investment advisory and institutional operations, President of its international investment banking subsidiary, and as Managing Partner, Chairman and CEO of Riter, Pyne, Kendall and Hollister, Incorporated. He was Vice Chairman of Ruane, Cunniff and Company at the same time as he founded W.P. Stewart and Company as a corporate consultant.
Ms Pamela J. Thomas, MBA, CFA
Ms Thomas, an expert in emergent strategy formulation and organizational transformation, is the founder of Kairos Advisers, L.L.C. She has served as a Consultant at the Shalem Institute, acted as a strategic consultant to Potomac Asset Management, Director of International Equities at the Virginia Retirement System, Portfolio Manager/Vice President, International Equities at the General Electric Investment Corporation, International Equity Analyst at the Bank of Bermuda, and Senior Credit Analyst at the Bank of N.T. Butterfield. She is a CFA Charter holder. She received her BA in Economics from Princeton University, and her MBA from the Wharton School. In addition, she holds an M. Div. and a faculty fellowship for Doctoral Studies from Union Presbyterian Seminary.
Mr Ian Truran
Mr Truran is the President & CEO of Capital G Bank Limited and Capital G Trust Limited. He was an Executive Member of the Bermuda Chamber of Commerce from 2006-2010.
He received his B. Com. from Dalhousie University and is currently enrolled in the ABA Stonier Graduate School of Banking at Wharton Business School, University of Pennsylvania.
Mr Douglas Murray Tufts
Mr Tufts is Managing Director of Anfossi Management Limited. He started his career at Dunwoody and Company, Chartered Accountants. He successively held accounting positions at Harrington & Partners, Limited, Touche Ross and Company, and Deloitte and Touche. He is a member of the Certified General Accountants Associations of both Nova Scotia and Bermuda.
Read More About