Two-time Olympian Tyler Butterfield arrived in Bermuda this evening [Aug 11] aboard British Airways, along with his wife Nikki and young daughter Savana.
During the Olympics the 29-year-old triathlete had joked on Twitter he wasn't sure what was harder, competing in the Olympics or having an 18-month old toddler with him among all the Olympic hustle and bustle in London.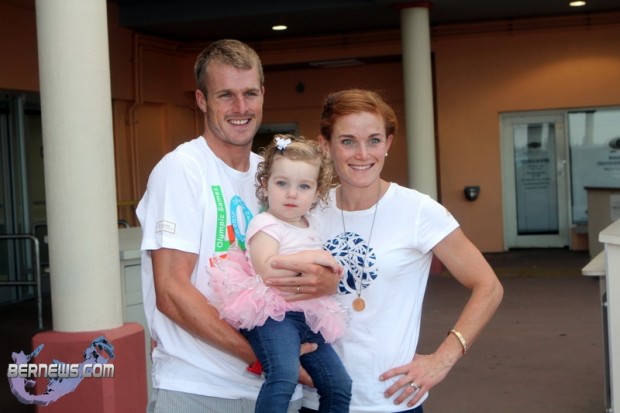 Speaking about his cycling time he said: "I got the fastest bike time which is a little bonus. It's not a medal, you don't really get anything for it but within the triathlon community you get a bonus."
When asked about a recent report concerning the performance of Bermuda's Olympians, Butterfield said he can only really speak for himself, but went on to point out that the athletes they are up against are the best in the world, and also noted the population size of Bermuda.
"Bermuda is moving forward but to get a top ten or a top five or a medal, Bermuda has to make a huge jump, as we've had one ever, we had a bronze. I would not say we've done worse than other years.
"We come from a country of 70,000 people. For me to be up there with the big countries, to be with the Australians, the Canadians…I beat both the Brazilians.
"You have to look at the countries were are up with, and then look at the population. And that's just the pool of athletes they get to pick from. America had two athletes, and one was ahead and one was behind."
"It's hard as we all want a medal," Butterfield said. "But you have to be realistic."
"But as far as all the athletes I think we did quite well. And a lot of it is doing your country proud. It was pretty neat to see the Kirklands with the big spinnaker with the Bermuda flag. Everytime I saw a photo of that I thought that was pretty cool.
"And when I was watching TV to see the track and field…Bermuda is not going to get a lot of coverage but when you see your country written across the jersey, you get excited. And that is what it's about.
"And hopefully someday we will get someone like Kirani James from Grenada that won a medal. He is from a country of 110,000 and he won a medal," Butterfield said.
Tyler Butterfield and Flora Duffy were the only triathletes from the Caribbean region to qualify for the 2012 Olympics.
Read More About