[Updated with video] Tyler Butterfield took the winner's spot on the podium on Sunday [Sept 29] after winning the Ironman 70.3 Cozumel with a time of 3:50:22. The event's online coverage said, "Tyler Butterfield crushed the second half of the run to take the lead and the win at the 2019 Mazda IRONMAN 70.3 Cozumel".
A report in Slowtwitch said, "Tyler Butterfield overcame a 6:39 deficit after the bike leg with a race-best 1:14:45 run and Ellie Salthouse outran Svenja Thoes to win pro honors at Ironman 70.3 Cozumel.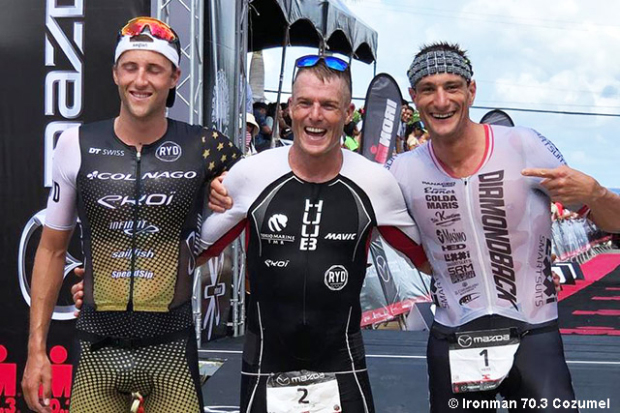 "Butterfield started with a 7th-best 25:06 swim that left him a 22 seconds behind swim leader Brent McMahon of Canada and 14 seconds behind Ironman 70.3 Worlds bronze medalist Rodolphe Von Berg of the U.S.
"On the wings of a race-best 2:01:06 bike split, Von Berg took a 4:52 lead on Michael Weiss of Austria [second-best 2:01:58 bike split], 5:00 lead on McMahon, 6:28 on Raul Tejada of Guatemala, and 6:39 on Butterfield, who managed a 2:07:19 bike split to stay in sight of the podium.
"After 5 kilometers of the run, Butterfield advanced to 4th, 3:02 behind Von Berg, 1:14 behind McMahon and 1:02 behind Weiss.
"On his way to a race-best 1:14:45 half marathon, Butterfield swept past Tejada and Weiss at the halfway point of the run and closed to within 1:56 of Von Berg.
"At that point, Von Berg began a fade to a 1:23:34 run split which left the door open to Butterfield, who closed with a 1:14:45 half marathon, finishing in 3:50:22 with a 1:59 margin of victory over Von Berg and 3:16 over 3rd place Michael Weiss [1:19:56 run split]."

Read More About