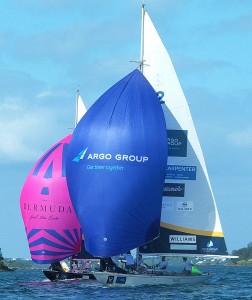 [Written by Talbot Wilson] Two post-deadline team cancellations and difficulty with travel schedules from Europe have reduced the expected field of 24 teams to 21 in the 2012 Argo Group Gold Cup. The field includes nine of the top 20 ISAF ranked teams and the two leading Alpari World Match Tour Skippers.
With the reduced numbers, the schedule and format will be modified. Formerly, the first stage of the event saw three groups of eight teams fighting for the first six slots in the Quarter Finals and the final two Quarter Final slots being filled through the repechage, a six-boat round-robin sail-off.
This year the teams will be divided into two groups of 10 and 11 teams determined by Alpari World Match Racing Tour officials and the organizers at the Royal Bermuda Yacht Club based on international rankings and other performance factors. Each group will sail a round robin with their top four teams moving directly to the quarterfinals.
Bjorn Hansen (SWE) of Mekonomen Sailing Team currently leads Ian Williams (GBR) of Team GAC Pindar on the Tour leaderboard by 6-points and the pair will probably be the top seeds at the event and fall into different groups. Johnie Berntsson (SWE) and the Berntsson Sailing Team, a past Gold Cup winner, and Adam Minoprio (NZL) BlackMatch Racing, the 2009 Tour and ISAF World Champion, will likely fall into opposing groups as well. Minoprio has yet to win the Gold Cup, but came second to Johnie Berntsson in 2008 and second to Ben Ainslie in 2009.
However, this could all change by race time on October 2nd since the sixth stage of the Alpari World Match Racing, Match Race France, is being held this week and finishes on September 29. All four of these top competitors will be on the water in France so rankings could change before they arrive in Bermuda.
As mentioned in earlier reports the international teams entered this year still represent five continents— North and South America, Australia, Asia, and Europe. Teams hail from 16 countries that include three skippers from Sweden, and two each from Bermuda, Great Britain and New Zealand. Other skippers come to Bermuda from Canada, the USA, the US Virgin Islands, Brazil, Australia, Finland, the Netherlands, Poland, Switzerland, Greece, Turkey, and Russia. Complete team information is available on the Gold Cup website.
The top seeds will have to face a host of other skilled competitors including William Tiller (NZL) ranked 8th under ISAF, Taylor Canfield (ISV) of Team CMRC ranked 11th, Eric Monnin's (SUI) Swiss Match Racing Team at 13th, Nicolai Sehested (DEN) ranked 15th, Staffan Lindberg (FIN) ranked 19th, and Marek Stanczyk (POL) 20th who rounds out the top 20 under ISAF rankings.
Two teams now represent Bermuda. Blythe Walker Team RenRe has been in the money several times—including a 4th in 2007 and a 7th in 2009 and he is seriously looking for a better finish in 2012. Lance Fraser first sailed in the Gold Cup as a Bermuda high school student in 2010, the youngest entry ever. He is back for his third try and hopes it will be the charm.
Final registration for the Argo Group Gold Cup opens Sunday September 30th, and practice sessions are scheduled for Monday October 1st. Racing begins the next day and continues with the Finals and Petite Finals scheduled for Sunday October 7th.
The finals, scheduled for 14:00 local time (ADT/GMT-3) will be televised live and online. The schedule will be available pre-event at wmrt.com/live and on argogroupgoldcup.com.
Other highlights for the week include the Renaissance Re Junior Gold Cup, which features the top Optimist Dinghy sailors from 15 countries racing against a contingent of Bermuda's best young sailors. This 'Championship of Champions' celebrates its 10th Anniversary in 2012. The annual Family Festival of Sail is also scheduled for Sunday October 7th in Barr's Bay Park adjacent to Royal Bermuda YC and is open to all.
Read More About