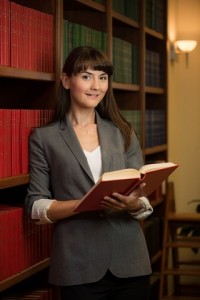 Agathe Holowatinc has joined MJM Limited in the position of Information Services Manager.
Ms Holowatinc will manage the MJM Limited library and information centre, provide legal research and reference services and deliver training in the use of print and online resources to the firm's attorneys and pupils. She will also coordinate the company's marketing and public relations programme and support IT operations.
Prior to relocating to Bermuda for this role, Ms Holowatinc worked for Lawson Lundell LLP in Vancouver as a Law Librarian, where she provided legal, business and legislative reference services, as well as research assistance, to lawyers and staff.
During her career, Ms Holowatinc has also worked in various library-related roles at the New Westminster Public Library, Vancouver Public Library, United Nations Dag Hammarskjöld Library and Knowledge Sharing Centre in New York City, Health Canada Departmental Library in Ottawa and Asia Research Institute in Singapore.
Ms Holowatinc earned a Master's degree in Library and Information Studies from the University of British Columbia in Canada, and a Bachelor of Arts degree, with a communications major, from Simon Fraser University, also in Canada.
Peter Martin, Director at MJM Limited, said: "I welcome Agathe to both MJM and to Bermuda. Agathe's international information services experience will undoubtedly make her an invaluable resource for MJM's lawyers and our clients."
Ms. Holowatinc is a member of the British and Irish Association of Law Librarians, Canadian Association of Law Libraries, Special Libraries Association and Vancouver Association of Law Libraries.
Read More About