CONCACAF have announced the appointment of BFA Treasurer – Andrew Griffith CA to the CONCACAF Audit and Compliance Committee. CONCACAF is the 35 country regional confederation of FIFA that encompasses North America, Central America and the Caribbean.
A BFA spokesperson said, "Griffith is a long standing elected Treasurer of the BFA. He has represented Bermuda at various meetings of the Caribbean Football Union (CFU), CONCACAF and FIFA Congresses over the many years. Additionally, he has met with FIFA Officials at annual meetings to present the audits of the funds granted to the BFA by FIFA.
"The BFA has always had a clean independent audit of such FIFA Funds and our audit has always been one of the first to be received and approved annually by FIFA.
CONCACAF letter to BFA President Larry Mussenden announcing committee appointment: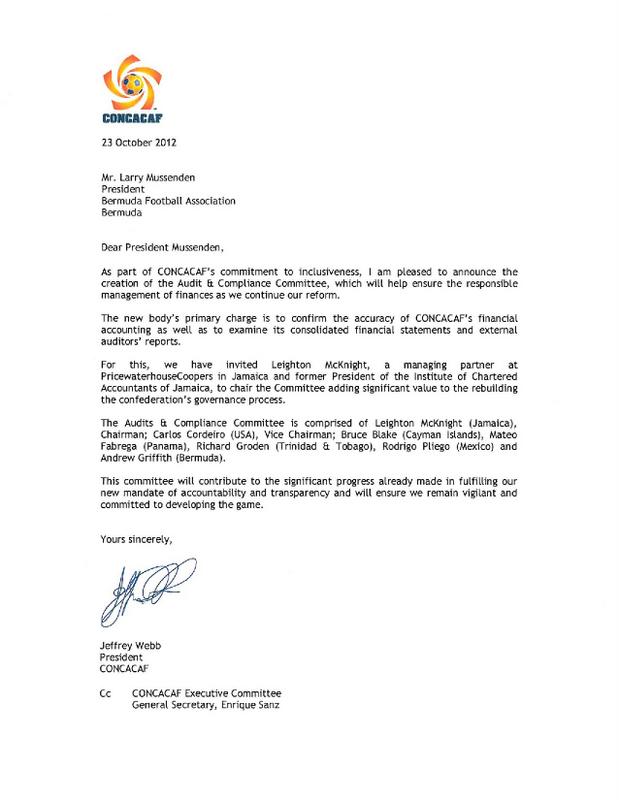 "Griffith has also led the way for the independent audits of the BFA to be prepared in a timely manner and presented to the BFA Congress and public. The KMPG audited financial statements of the BFA for the year ended 30 April 2012 were presented to the BFA AGM on 27 September 2012.
"Griffith is a Chartered Accountant and is the Chief Financial Officer of a local group of companies with many Financial Controllers reporting to him across the group.
"The BFA and Bermuda can be proud that Griffith has been appointed to the CONCACF Committee as it continues to show that Bermuda football officials are respected for our professionalism and administration of the game. It also demonstrates that our BFA officials represent football at the CFU, CONCACAF and FIFA levels."
Read More About