Yesterday [Nov 22] a special luncheon was held at the Hamilton Princess to mark the Universal Day Of The Child, and a number of children received the Young Citizens Award for demonstrating humanitarian qualities, standing up for the rights of others and for community service.
Minister of Youth, Families and Sports Glenn Blakeney said: "This Young Citizen Awards Luncheon is a wonderful recognition ceremony for Bermuda's young people who are exemplary in the area of humanitarianism. This event is the Ministry's way of highlighting the Universal Day of the Child which is officially observed around the world each 20th of November to remind people of the basic fundamental rights of the child.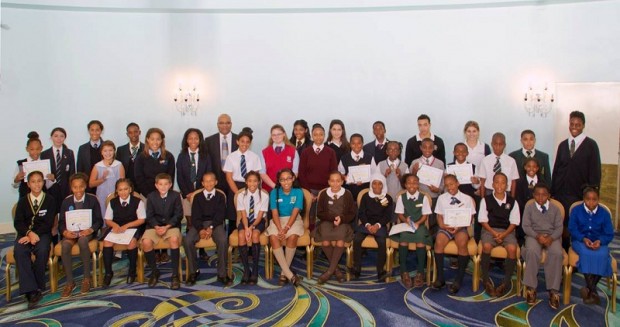 "This is the 9th year that the Ministry and the Department of Child & Family Services has celebrated Universal Day of the Child, by awarding students from primary, middle and senior schools, public and private, with Young Citizen Awards, " the Minister continued.
"First proclaimed by the United Nations General Assembly in 1954, Universal Day of the Child was established to encourage all countries to institute a day to promote mutual exchange and understanding among children and to initiate action to benefit and promote the welfare of the world's children.
"The Young Citizen Awards are given to students who demonstrate humanitarian qualities such as kindness, compassion, standing up for the rights of others and respecting diverse cultures and different views and opinions. The students who are receiving awards today have been identified by their respective schools for clearly demonstrating such characteristics. Although these children were nominated by their schools, their families must also be applauded as these values are instilled in them and reinforced at home.
"Our Ministry believes that the resolution of many of our current social challenges lies in the strengthening of families, and in building resilience and a caring attitude among our children.
"Our Government is committed to fairness and equality for all. The young people who will shortly receive awards are to be commended for their recognition that human rights for all must be respected. I encourage you all to listen carefully to the descriptions of how each child has contributed towards a more just society, as the Mistress of Ceremonies reads out their specific information. It is definitely a pleasure to be presenting a total of 37 Young Citizen Awards to a diverse group of students.
Minister Blakeney concluded: "I wish to congratulate all of our student awardees and their parents. You are Bermuda's future, and tonight we honour and celebrate you!"
Read More About
Category: All