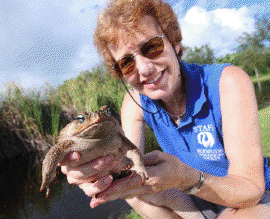 Dr. Jamie Bacon, research scientist for the Amphibian Project, Bermuda Zoological Society (BZS) will speak at a public lecture about the effects of air and water pollution on Bermuda's eco-system on November 28.
The Amphibian Project was launched in 1995 after Dr. Bacon and her collaborator, Dr. Douglas Fort, discovered a large number of deformed cane toads in and around Bermuda. The project's aim is to determine how environmental pollution affects cane toad populations. Further research has also found a host of effects in killifish and red-eared slider terrapins. For the past twelve years, Dr. Bacon has studied natural environments in Bermuda as part of an Ecological Risk Assessment, which she and Dr. Fort began in 2000.
Since the assessment began, Dr. Bacon and Dr. Fort have worked diligently to complete the first and second phases of the project and by the summer of 2013, they will have moved onto the third phase, which will determine ways in which existing pollution can be reduced and the effects the pollution has on humans.
Dr. Bacon's Amphibian Project is one of the most significant research projects in our community given its considerable findings. It is Dr. Bacon's belief that due to the profound deformities present in three classes of vertebrates here in Bermuda (fish, reptiles and amphibians) that the effects of our pollution is critical and needs to be taken seriously.
The public is invited to attend Dr. Jamie Bacon's lecture entitled "How Pollution is Affecting Bermuda's Wildlife: Potential Implications for Human Health", which will take place November 28 at 7:00p.m. in the Education Auditorium at the Bermuda Aquarium, Museum and Zoo in Flatt's. The lecture is free and space is limited, so seating is on a first come, first served basis.
Dr. Jamie Bacon and the Bermuda Zoological Society are grateful for all the support they have received from the community and welcome any donations to support the ongoing work of this important project.
Category: All, Environment