The Reading Clinic is hoping to raise $12,000 from its two annual tag days this week. Volunteers will donate some 225 hours at 27 locations on Wednesday, November 7 and Saturday, November 10 to support the charity, which provides specialised services for children with dyslexia and math-related learning difficulties.
Tag Day volunteer organiser Cynthia Armano said: "We realise that this amount is an ambitious goal, especially in these challenging economic times, but the public have been very supportive of our work in the past and we hope they will be again this year."
"We are grateful for any donation, no matter how small. All proceeds will be used to help improve the reading, spelling and mathematics skills of children with specific learning difficulties."
Education Minister Jennifer Smith makes the first donation to The Reading Clinic's annual Tag Day and receives a tag from Dr. Julie Dunstan, Executive Director of The Reading Clinic (right):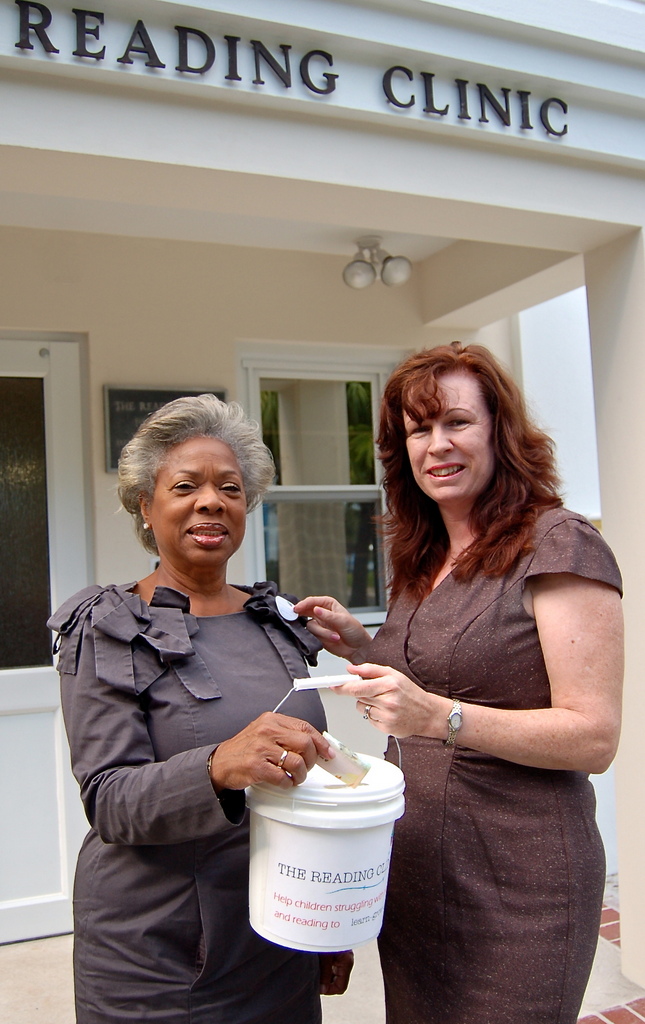 On Wednesday, November 7 volunteers will be collecting at 19 different locations in Hamilton, as well as King Edward VII Memorial Hospital and Lindos, Devonshire, from 8am to 7pm. They will also be at the exit of Bull's Head car park and the Ferry Terminal from 7.30am. to 9.30am.
On Saturday, November 10 they will be located at Gorhams and eight grocery stores islandwide from 8am to 5pm. Ms. Armano said volunteers would not only include Reading Clinic staff, tutors, parents, board members, and trustees but also Girl Guides, Paget Titans Football Club, Holy Trinity Church, Orchid Society, Altrusa Club, Lions Club, Tokio Millenium, and Capital G.
She added: "We would also like to thank the Corporation of Hamilton and all the businesses for permission and support including the SPCA who have lent us baskets for tags and Pembroke Paint who have donated collection buckets."
Read More About
Category: All