The Department of Community and Cultural Affairs, will be hosting a special cultural event on Friday [Nov 16], called Tellabration: An evening of Bermuda Storytelling, and interested members of the public are encouraged to attend.
Tellabration will take place in the Bermuda Room of the Elbow Beach Hotel from 7.00pm – 9.00pm and is an occasion where some of Bermuda's most recognised oral historians come together to share stories about the Island's folklife traditions.
The presenters on Friday include, Florenz Webbe Maxwell, Shernette Caines, Penny Fowkes, Sara Westhead, each who will be addressing attendees about different aspects of Bermuda's culture.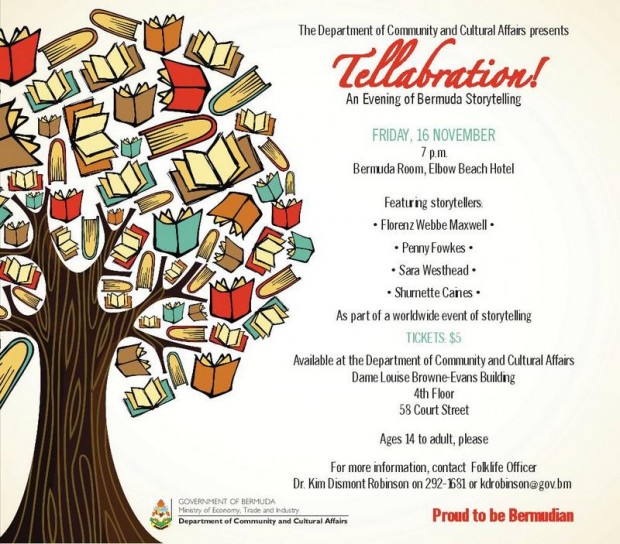 The origins of the event stem from a US tradition that occurs in the lead up to the Thanksgiving holiday. Tellabration originator J.G. Pinkerton envisioned this international event as a means of building community support for storytelling.
In 1988 the event was launched by the Connecticut Storytelling Center in six locations across the state. Billed as a great success, the event extended to several other states the following year, and then, in 1990, expanded nationwide.
Since that time, it has garnered worldwide appeal and this Friday, Bermuda will participate in this global event. Tickets for the event are $5.00 and can be purchased from the Department of Community and Cultural Affairs, located in the Dame Lois Browne Evans Building.
For more information contact, Dr. Kim Dismont Robinson, Folklife Officer at 292-1681.
Read More About
Category: All