The Bermuda Hospitals Board has installed new x-ray equipment which was purchased with funds donated by the Hospitals Auxiliary of Bermuda and cost $419,864. It replaces equipment that was over 16 years old and that BHB said "was increasingly challenging and costly to maintain."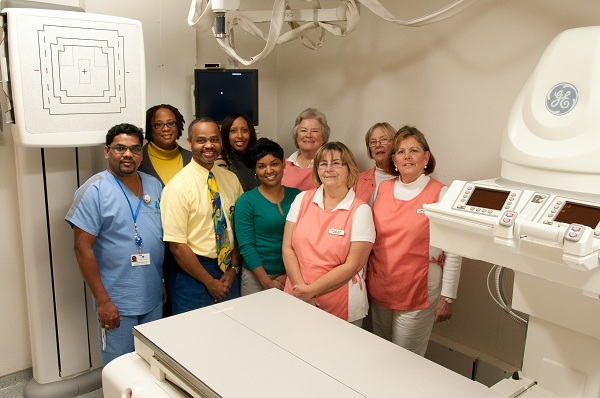 Minor works were required in order to install the equipment, and this was funded by BHB at a cost of $57,855. The new equipment includes a replacement fluoroscope which enables an imaging technique that uses x-rays to obtain real-time moving images of the internal structures of a patient, called fluoroscopy.
Common investigations that require fluoroscopy include:
Investigations of the gastroinestinal tract.
A modified barium swallow study that helps to diagnose swallowing dysfunction.
Urinary tract investigations including cystograms, urethrograms,nephrostograms.
Arthrograms of joints.
Cholangiograms to assess biliary ducts.
Ms. Renee Butterfield, Manager of Diagnostic Imaging, comments: "I would like to thank the HAB for their continued kind and generous support. This donation helped us replace equipment that was increasingly challenging and costly to maintain. The impact to patient care resulted in delays due to high levels of maintenance, and extended downtimes. The HAB's donation enabled us to improve quality with new technology and relieved the escalating financial burden of keeping aged equipment running."
Dr Daniel Stovell, Chief of Diagnostic Imaging, comments: "I am very pleased to have this replacement equipment operational. Our new equipment updates our technology and enables us to improve the quality of the images and reduce the amount of contrast and radiation patients are exposed to in each test. We will be able to transfer this equipment to the new hospital facility when it opens in 2014. We are very grateful to the HAB for helping us improve the quality and efficiency of patient care for Bermuda"
Ms Ann Marie Pailing, President of the HAB comments: "We are very pleased to see this new x-ray equipment purchased and installed. The HAB raises funds through membership dues, The Pink Café, The Gift Shop and The Barn to improve and support quality patient care at our only hospitals.
"We donate about half a million dollars to BHB each year to purchase much-needed clinical equipment, as well as supplying volunteers who work around the hospitals from the information desk to taking around the refreshments trolley to inpatients. We have 10 employed staff and 558 members (active, inactive and candy stripers). In 2012 our active members volunteered a total of over 30,000 hours. We are most grateful to all of our employees and volunteers who make our support possible."
Read More About
Category: All, technology