Some of the military aircraft from the Royal Air Force that arrived yesterday were back on the runway today [Jan 23] at the LF Wade International Airport. Led by the VC-10, four Typhoons followed the large aircraft from the north ramp towards the runway. As passing motorists saw the activity, many stopped on the roadside to take photos and watch the airplanes roar off.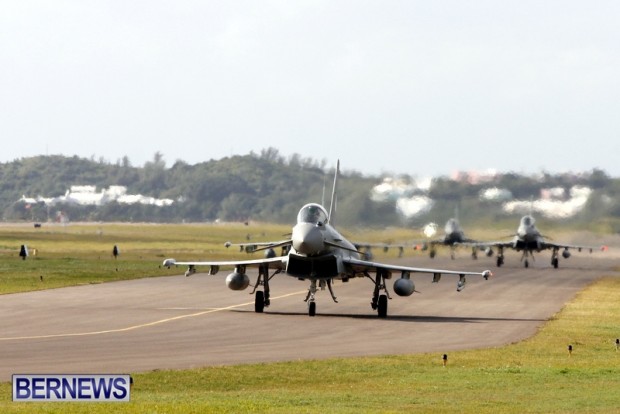 According to the Royal Air Force website, "the VC10 C1K is a dual-role AT and AAR aircraft. In the AT role, the aircraft is used for troop carrying, with accommodation for 124 passengers and nine crew. Use of a large, cabin-freight door on the forward left side of the aircraft allows easy conversion of the aircraft into a dual-role passenger/freight or full-freight configuration.
"In its full-freight role, the cabin can hold up to 20,400kgs of palletised freight, ground equipment or vehicles, on its permanently strengthened floor. The aircraft can also be used for aero-medical evacuation, for which up to 68 stretchers may be fitted.
"The Typhoon provides the RAF with a multi-role combat aircraft, capable of being deployed in the full spectrum of air operations, from air policing, to peace support, through to high intensity conflict. It is currently employed on permanent ops in the Falkland Islands, UK QRA North and UK QRA South."
Click to enlarge photos:
Read More About
Category: Airport/Planes, All, Most Popular, News, Photos, Videos