The Bermuda Motocross Season continued at the Southside Moto Sports Park on Sunday [Jan 13], with a lot of absences through injury and enlistments into the Bermuda Regiment. Due to an accident involving Trent Daniels the race day was called for the day.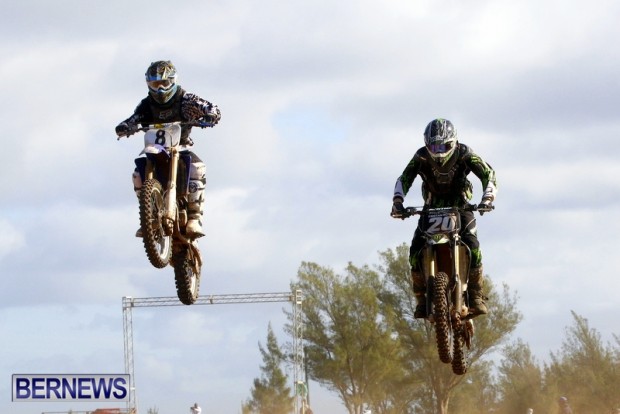 Keegan Jones, Jayden Simmons and Rayal Simmons finished one, two and three in the Pee Wee Class, while Moses Johnson road to victory in the 50cc Class, with Zano Tucker finishing second and Jayden Simmons was third on the day.
The 65cc Class honors for the day went to Kai-Jun Simons, while Michael Burrows Jr. finished second and Lazai Easton finished third.
Zamair Darrell rode to victory in the 85cc Class, while Senoj Mitchell finished second. Zendai Ingham-Fubler won the Junior Super-Mini Class. Jyire Mitchell won the C Class, with Tyquan Perinchief finishing second and Tristan Rocha finished third.
Otis Ingham won the Over 30′s Class, with Jason Harrell finishing second, Ingham also won the 450cc Class for the day, while Lorenzo Burch finished second and Trent Daniels was third.
Pee Wee Class
1 Keegan Jones
2 Jayden Simmons
3 Rayal Simmons
50cc Class
1 Moses Johnson
2 Zano Tucker
3 Jayden Simmons
4 J'auza James
5 Rajae Whitter
6 Rayal Simmons
65cc Class
1 Kai-Jun Simons
2 Michael Burrows Jr.
3 Lazai Easton
4 Keon Glasford
85cc Class
1 Zamair Darrell
2 Senoj Mitchell
Junior Super-Mini Class
1 Zendai Ingham-Fubler
C Class
1 Jyire Mitchell
2 Tyquan Perinchief
3 Tristan Rocha
Over 30 Class
1 Otis Ingham
2 Jason Harrell
450cc Class
1 Otis Ingham
2 Lorenzo Burch
3 Trent Daniels
4 Jason Harrell
Read More About