It is once again time to "Walk the Walk" with The Centre on Philanthropy and the Argus Group. This is the fourth consecutive year that the organisations have partnered to present this unique 5K charity walk, which allows participants to choose which charity receives their entry fee as a donation.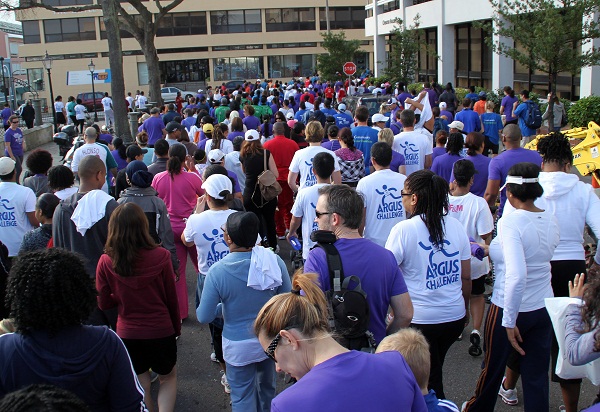 The Argus Walks the Walk with The Centre on Philanthropy event takes place on Sunday, February 24, with a warm-up session at 8.15am and the start at 8.30am. It is a fully marshalled 5K walk that begins and finishes on Wesley Street in front of the Argus and Centre on Philanthropy offices, 14 and 16 Wesley Street, Hamilton respectively.
Jennifer Pitcher, Volunteer Coordinator for The Centre on Philanthropy, says: "Argus Walks the Walk allows walkers to donate their entry fee to any Bermuda registered charity. It is an opportunity for many of Bermuda's smaller charities to have a fundraiser without having to allocate resources to organise and run an event. Argus has proven an invaluable partner for this event so we are really pleased to have them on board again in 2013.
"The walk is a great chance for nonprofits to engage not only their regular stakeholders but also anyone interested in supporting their mission. In fact we run a special workshop for nonprofits to help them maximise the potential of this event."
Alison Hill, Chief Executive Officer of the Argus Group, adds: "We are happy to once again support The Centre on Philanthropy with this innovative fundraiser, where the participants get to pick the cause they want to sponsor."
Online registration is available at www.racedayworld.com or walkers can register in person at The Centre on Philanthropy. The registration deadline is 4pm on Friday, February 22 and the first 1,000 participants will receive a free Argus Walks the Walk t-shirt. T-shirts can be picked up from the Argus Building between 10am and 2pm on Saturday, February 23. Walk-in late registrations will also be accepted during the t-shirt collection period.
The entry fee is $25, with $20 from each entry being donated to the charity selected by the participant and $5 going to support www.VOLUNTEER.bm, The Centre's online resource for pairing charities with volunteers.
After the walk, prizes will be given for the largest corporate and youth teams, as well as the team with the most spirit – so teams are encouraged to dress to impress and make plenty of noise. Forming a team also allows groups to increase their impact if they all walk for the same charity.
For more information please contact The Centre on 236-7706 or email: info@centreonphilanthropy.org.
Read More About
Category: All