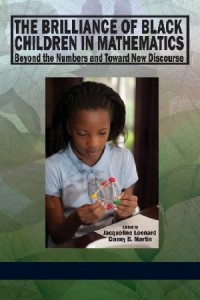 The work of Bermudian educator Dr. Lou Matthews was featured in the release of a new book called the "Brilliance of Black Children in Mathematics."
The book is a compilation of leading research investigating the mathematics experiences, along with variables and challenges for success along a variety of school levels and context. It was edited by Dr. Jacqueline Leonard and Danny Martin, renowned scholars in the field.
The book was officially released at a book signing on April 18, 2013 at the Annual Meeting of the National Council of Teachers of Mathematics,  the largest annual gathering of mathematics educators in the world.
Dr. Matthews was one of several scholars invited to author a chapter, and along with Drs. Shelly Jones and Yolanda Parker. Matthews served as lead author. The chapter entitled Advancing a Framework for Culturally Relevant and Cognitively Mathematics Tasks examined how teachers can be empowered to create mathematics tasks which challenge students to think more deeply about themselves, their community, and the world around them.
Dr. Lou Matthews said, "It was honor to be invited to be included as the only foreign scholar in the company of leading scholars and educators of Black children. I am humbled because our work is helping to build a positive narrative around the excellence of Black communities and education.
"The fact that the book was sold out at the event and online was a pleasant surprise but show how people across jurisdictions are wanting better solutions than the 'what's wrong with…' talk. When I imagine Bermudian classrooms where students examine issues of community including employment, economy, imprisonment, and violence using mathematics, I get exited about the reality for our schools!"
The book was published by Information Age Publishing and is available here on Amazon.com.
Read More About
Category: All