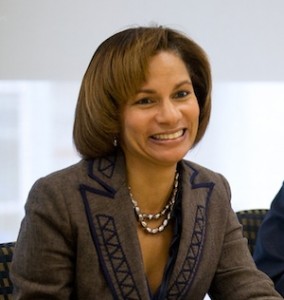 After more than six years as Chief Executive Officer of Business Bermuda, Cheryl Packwood has announced her retirement from the organization.
Ms. Packwood began working with the Bermuda International Business Association in October 2006 after serving as General Manager at AT&T and Cingular Wireless that later became Digicel Bermuda and Director of Legal Services, Enforcement and International Affairs at the Bermuda Monetary Authority.
She also worked in Cote d'Ivoire as the Managing Director of Western Wireless International Corporation preceded by a career in law with N'Goam, Asman & Associates in Cote d'Ivoire and Shearman & Sterling in New York City.
Ms. Packwood has been one of Bermuda's most recognizable offshore representatives promoting Bermuda's financial services industry at home and abroad.
In April 2012, Ms. Packwood was named as an Industry Leader in MENA FM's Service Provider Power 50 of 2012 for her work promoting Bermuda internationally.
David Cash, Chairman of Business Bermuda, commented, "Cheryl Packwood has achieved great things at Bermuda Business and for the island. She has been the island's spokesperson and ambassador for business. The Board wishes to thank her for her hard work and vision. We wish her every success in her future endeavors."
Ms. Packwood is taking this time to deepen her international expertise and experience by going on to work with developing economies.
Business Bermuda is in the process of merging into the recently announced Bermuda Business Development Corporation which will be building upon and expanding the financial services promotion activities carried out by Business Bermuda and the Insurance Development Council.
Read More About