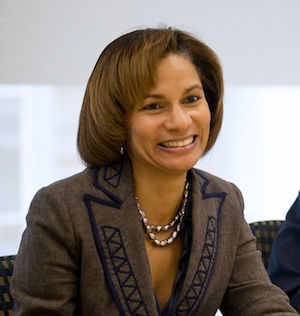 The Cabinet Office today [Oct 23] confirmed former Cheryl Packwood's appointment as the Overseas Representative for the Government of Bermuda and Director of the Government's Washington, DC Office with effect from November 1, 2013.
The post was previously held by Director of the Department of Communication and Information Beverle Lottimore, who was seconded to head the office in Washington DC in 2011.

A statement said, "As the Overseas Representative, Ms. Packwood will be responsible for maintaining relationships integral to Bermuda's economic partnership with the United States such as with congressional committees including the Senate Finance Committee and the House Ways and Means Committee.
"Ms. Packwood has also been charged with identifying and developing influential networks in the United States, the Americas, and Asia to sustain and promote Bermuda's position as a leading international financial services centre. The primary goal of this activity is to steer and diversify the flow of foreign direct investment to Bermuda from North America, Central and South America, and Asia.
"Having recently held the position of Chief Executive Officer of Business Bermuda for more than six years, Ms. Packwood brings to the post a depth of experience in building business and commercial relationships for Bermuda.
"Prior to joining Business Bermuda, Ms. Packwood held senior positions as the General Manager of Digicel Bermuda and the Director of Legal, Enforcement and International Affairs at the Bermuda Monetary Authority.
"Ms. Packwood has extensive international experience having worked in Africa and North America. She held senior positions with Western Wireless International as the Managing Director of Cora, SA in Cote d'Ivoire. She was at the forefront of developing GSM cellular telephonie in Africa.
"Before joining Western Wireless, Ms. Packwood built a thriving legal practice at N'Goan, Asman et Associés in Abidjan, Côte d'Ivoire. She started her legal career at the global firm of Shearman & Sterling in New York City. Ms. Packwood graduated from Yale University with a Bachelor's of Arts Cum Laude and then Harvard Law School with a Juris Doctorate with honors.
Ms. Packwood stated: "It is an honour to be selected to represent Bermuda and work with the Government of Bermuda in this capacity. Indeed, in many respects, this position represents everything that I have worked toward in my career – bringing together my experience as a business executive, lawyer, and advisor in the United States, Africa, and Bermuda. It also represents my continued commitment to Bermuda's economic stability and success."
She continued, "Bermuda is a leader in the global community, and there is so much we can and should be doing to ensure that we not only maintain but enhance our position in the world.
"The United States is our most important market both politically and economically, and we must continually work to strengthen our relationships and advance our alliances with its government and business leaders.
"In addition, China is Bermuda's second largest trading partner with growing economic and political importance. I look forward to this new challenge and the opportunity to further advance Bermuda's political and economic agenda in the Americas and Asia."
Premier Craig Cannonier stated: "Government is delighted to have Ms. Packwood heading up our Washington DC Office. She is highly experienced in international business and international relations and will do a good job for us in Washington."
Earlier this year when discussing the budget, the Premier said the Washington DC Office will receive $474,000. The Government's other overseas office is in London, and is budgeted to receive $1.1 million for 2013-2014.
The Washington, DC Office was established in September 2009.
Read More About