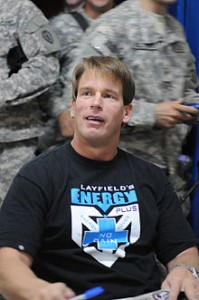 World Wrestling Entertainment superstar John Layfield told a Boston newspaper today [Apr. 8] about his global quest to climb the tallest mountains on each of the seven continents to raise money for Bermuda's needy children.
Mr. Layfield [pictured] — who lives part-time on the island — remains best known by his ring names Justin "Hawk" Bradshaw, Blackjack Bradshaw, Bradshaw and John "Bradshaw" Layfield [JBL].
The 6-foot-6 former world champion, who now provides colour commentary for WWE bouts, recently planted the Bermuda flag atop Africa's Mount Kilimanjaro.
With funding from the WWE, all proceeds from his mountaineering adventure go directly to Bermuda's Family Centre.
"I'm really honored to be climbing mountains and raising money for these wonderful kids in Bermuda," Mr. Layfield, 46, told "The Boston Herald."
He went on to thank the WWE for its support, calling it "the most charitable organisation in the world."
He is in Boston for WWE events being staged at that city's TD Garden
Read More About