Sir Steve Redgrave, a retired British rower who won gold medals at five consecutive Olympic Games from 1984 to 2000 and a bronze medal at the 1988 Summer Games, paid members of the Bermuda Rowing Association a visit on Friday [Apr 12] at the Royal Hamilton Amateur Dinghy Club dock.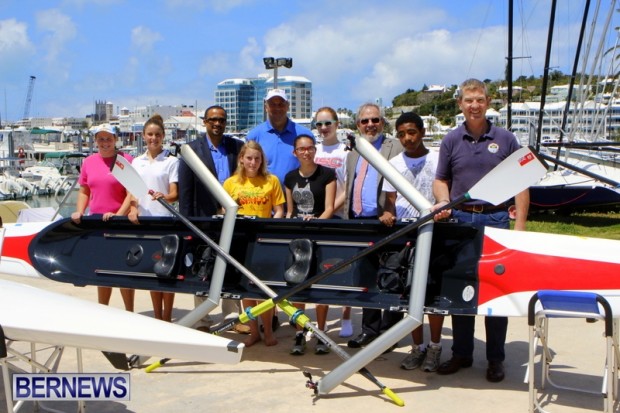 Minister of Public Works Trevor Moniz and Minister of Community & Cultural Development Wayne Scott joined President of the Bermuda Rowing Association Michael Swain, junior rowers, family members and supporters in welcoming the Olympic rower. Sir Steve took part in coaching the juniors and spent time with the rowers to answer questions.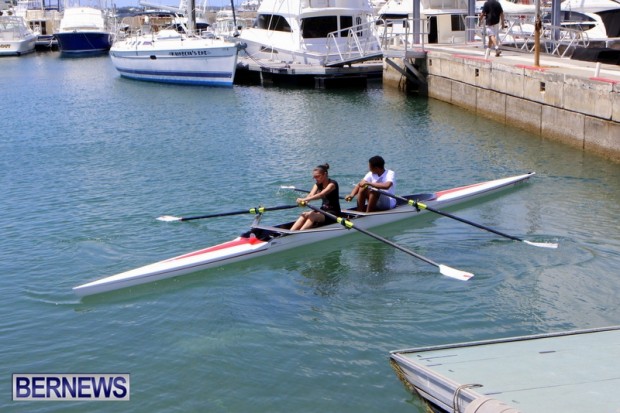 President of the Bermuda Rowing Association Michael Swain said, "This is indeed a special moment to have Sir Steve here and be able to have a conversation with him, he came to Bermuda for another event, but he has been so gracious to spend some time with us and offer a few tips to our young rowers."
Sir Steve carried the British flag at the opening of the Olympic Games on two occasions. In 2011 he received the BBC Sports Personality of the Year Lifetime Achievement Award. With 5 Gold Medals and 1 Bronze, Redgrave is the most successful Male Rower in Olympic history.
Click photos to enlarge:
Read More About