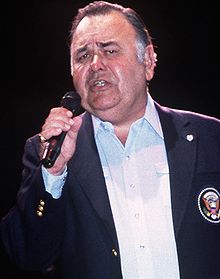 Antic funnyman Jonathan Winters — whose inspired flights of comedic fancy were once famously recruited in the service of Bermuda's sedate tourism industry — died on Thursday [Apr. 11] at his home in California. He was 87.
In 1963 Mr. Winters [pictured] was deliberately cast very much against type when he hosted and narrated "Passage To Bermuda", a half-hour promotional film produced by the island's Trade Development Board.
Widely shown in cinemas, on US and Canadian TV as well as at service club meetings, "Passage To Bermuda" was a good-humoured effort to shake up the island's staid marketing by injecting some of Mr. Winters' frenetic energy into the proceedings.
Mr. Winters visited island on a number of other occasions to participate in the Bermuda Light Tackle Fishing Tournament.
"A one-man sketch factory, Mr. Winters could re-enact Hollywood movies, complete with sound effects, or create sublime comic nonsense with simple props like a pen-and-pencil set," said a "New York Times" obituary of the groundbreaking comic. "The unpredictable, often surreal quality of his humor had a powerful influence on later comedians like Robin Williams but made him hard to package as an entertainer. His brilliant turns as a guest on programs like 'The Steve Allen Show' and 'The Tonight Show' — in both the Jack Paar and Johnny Carson eras — kept him in constant demand.
Jonathan Winters 1963 tourism promotional film "Passage To Bermuda"
"But a successful television series eluded him, as did a Hollywood career, despite memorable performances in films like 'It's a Mad, Mad, Mad, Mad World', 'The Loved One' and 'The Russians Are Coming, The Russians Are Coming' …"
A pioneer of improvisational stand-up comedy in the early 1960s with a gift for mimicry, various personlities and a seemingly bottomless reservoir of creative energy, one-time "Tonight Show" host Jack Paars said of Mr. Winters, "If you were to ask me the funniest 25 people I've ever known, I'd say, 'Here they are — Jonathan Winters'."
Mr. Winters received 11 Grammy Award for Best Comedy Album nominations during his career, and won the Grammy Award for Best Spoken Comedy Album in 1996.
In 1991, Mr. Winters earned an Emmy Award for his supporting role in "Davis Rules."
In 2002, he earned an Emmy nomination as a guest star in a comedy series for "Life With Bonnie."
In 1999, he was awarded the Mark Twain Prize for American Humour and in 2008 Mr. Winters was presented with a Pioneer TV Land Award by Robin Williams.
Jonathan Winters in the St. George's stocks in "Passage To Bermuda" [1963]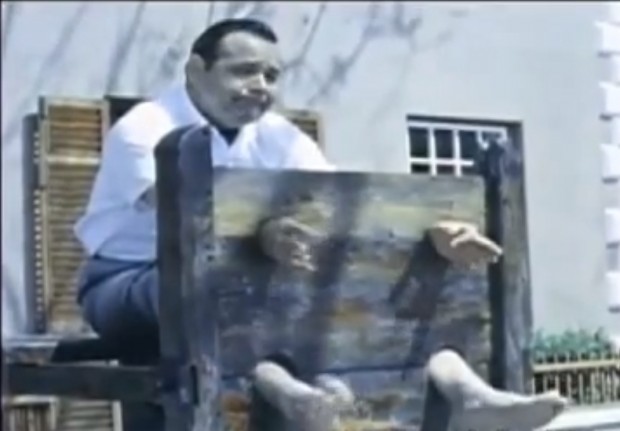 Read More About
Category: All, Entertainment, Films/Movies, Videos