[Written by Talbot Wilson] As the Alpari World Match Race Tour kicks off this week with Match Race Germany, the Royal Bermuda Yacht Club— organizers of the Argo Group Gold Cup— can certainly say that the regular schedule of tour events will conclude with a top slate of skippers. All eight of the Tour Card Holders have accepted their invitations to the 2013 Argo Group Gold Cup, the penultimate stage of the ISAF Championship Match Racing Tour.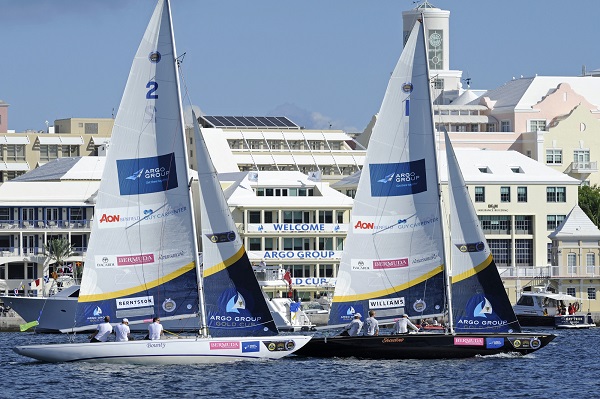 The start of the Bermuda event is scheduled for October 8th and the finals for October 13th. Sailing for the King Edward VII Gold Cup and the $100,000 prize purse is near the RBYC and the Fairmont Hamilton Princess Hotel in Hamilton Harbour. The scene is a spectator friendly, natural sailing auditorium. perfect for a Bermuda 'sail watching' vacation.
Seven of the Tour Card Holders now rank in the ISAF Open top nine. The eighth and one of the best, Adam Minoprio, has been away from Match Racing for other offshore sailing commitments. 2013 should be one of the best matches in Gold Cup History.
The Tour Card Holders who received automatic invitations are 2012 World Tour winner and 2006 Gold Cup Champion Ian Williams [GBR] Team GAC Pindar #1, Bjorn Hansen [SWE] Hansen Sailing Team #2, Pierre-Antoine Morvan [FRA] Vannes Agglo Sailing Team #3, Phil Robertson [NZL] WAKA Racing Team #4, Taylor Canfield [USVI] USone— winner of the 2012 Gold Cup—#5, Keith Swinton [AUS] Black Swan Racing #6, Johnie Berntsson [SWE] Stena Sailing Team— 2008 Gold Cup winner— #9, and Adam Minoprio [NZL] Team Alpari FX #124.
In addition to these elite tour Card Holders, five other skippers have accepted. They include William Tiller [NZL] Full Metal Jacket #7, Simone Ferrarese [ITA] Ferrarese Racing Team #11, Eric Monnin [SUI] Swiss Match Racing Team #13, Jordan Reece [AUS] #16 and 2007 Gold Cup winner Mathieu Richard [FRA] French Match Racing Team #18.
Three more skippers have now been invited to fill out the 16 invitational slots. Then four more entries, unless they have already accepted invitations, automatically come from winners of qualifying events – the Knickerbocker Cup and the Detroit Cup in the USA, the Polish Match event and the Bermuda National Match Race Championship.
The 2013 Gold Cup will be sailed with the same 20-team format used for the first time in 2012. This Argo Group Gold Cup format is unique on the Alpari World Match Racing Tour. It now allows for two 10-team groups that progress through elimination rounds to the Sunday finals. Skippers in each group are ranked and divided by Alpari World Match Racing Tour officials and the organizers at the Royal Bermuda Yacht Club. Rankings in the groups are based on international AWMRT and ISAF rankings and other performance factors.
The Royal Bermuda YC, Organizing Authority of the Argo Group Gold Cup, has now posted the Notice of Race for the 2013 edition of this classic event.
Read More About