[Updated with videos. Game over, Bradford wins 3-0, and will be promoted. Nahki Wells scored one goal and was named the Man of the Match.]
Bermuda's Nahki Wells has scored at today's [May 18] game at Wembley Stadium becoming the first Bermudian to score at the iconic stadium. The game is still underway, and Bradford City is leading 3-0.
Quick video of Wells being announced at Wembley:
Bradford earned a trip back to Wembley Stadium for the second time this season, after their 3-1 victory — in which Wells scored twice — against Burton Albion qualified them for the League 2 play-offs.
This final game is against Northampton, with the winner of the match earning a promotion to League 1.
In the game programme the 22-year-old Bermudian said, "After seeing me grow up in amateur football in Bermuda with no real crowds watching, it was unbelievable for them [my family] to see me play in front of over 80,000 people at Wembley."
Wells went on to say that: "…all I'm interested in right now is getting one division higher with Bradford."
Today's game programme featuring Nahki Wells: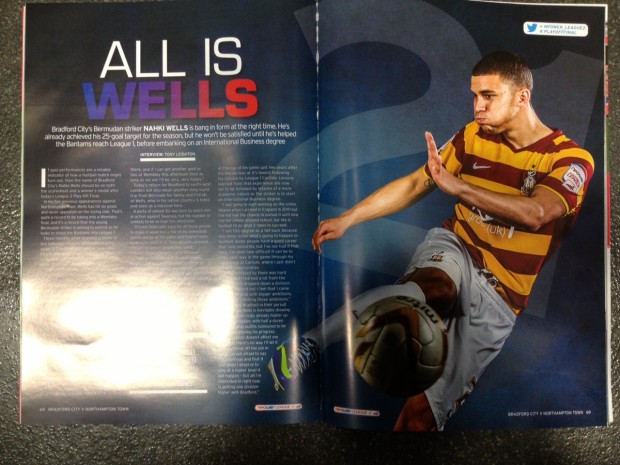 Update 11.20am: The game is coming to an end, Nahki Wells has been substituted, and barring some miraculous last minute maneuvers from Northampton, Bradford looks like it will win this game and be promoted to League 1.
Update 11.30am: The game is over, with Nahki Wells & Bradford City defeating Northampton 3-0. They will be promoted to League One!
Video of Wells scoring today:
Update 11.43am: The Bermuda Progressive Labour Party congratulated Bradford Striker Nahki Wells for becoming the first person from our island to score a goal at historic Wembley Stadium in London.
PLP Leader Marc Bean said, "Nahki Wells has made history and cemented himself as a hero to Bermudians of all ages. This accomplishment in a high stakes game at Wembley Stadium is the dream of every young footballer and he has not only made that dream a reality for himself, but also to the young people he inspires."
Shadow Sports Minister Michael Weeks said, "Nahki Wells has done it again. Following proudly in the footsteps of Clyde Best, Shawn Goater, Kyle Lightbourne, David Bascome and others who have left Bermuda to show the world just how football should be played. We congratulate this young man and look forward to watching him play in League 1."
A Bradford supporter wearing a Nahki Wells face mask at Wembley today: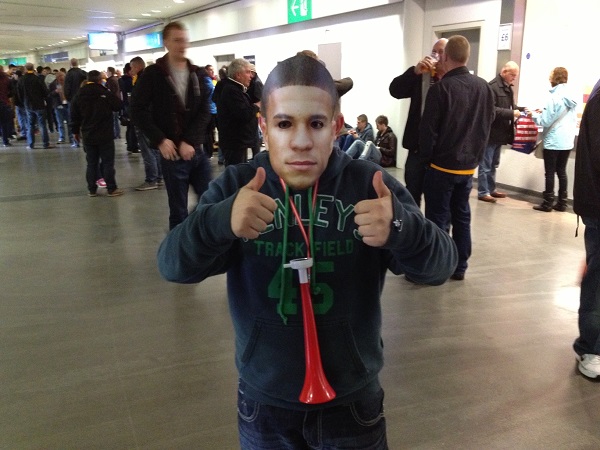 Update 12.25pm: Nahki Wells was named the Man of the Match.
Speaking to the Telegraph & Argus he said, "When you're doing well you grab the attention but without these players around me it wouldn't be possible. I'm contracted to Bradford, so I'll be playing in League One next season."
"How will we celebrate tonight? I have no idea until we get in the dressing room. It's just a dream come true because we had worked so hard to get here. It's a big game and we had to come into it confident but not arrogant.
"We had played 64 games and to finish it off in this fashion is unbelievable."
Speaking to the BBC, he said, "It's a dream come true. We worked so hard. To come this far and finish it off in this fashion is great. We wanted to come into the game confident and not arrogant. I'm contracted to Bradford so I will be playing league One next season."
Read More About