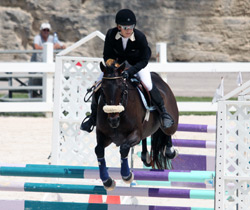 This year's FEI World Jumping Challenge competition was held at the National Equestrian Centre on Vesey Street this weekend with Philip Correia and his stallion Emmerson emerging as the winners after an exciting final round of jumping.
After the first two rounds held there was a three way tie for first place with Correia and Emmerson, Claire Howard on Just a Rose, and defending champion Michael Rodrigues this time on Southern Eclipse all having two clear rounds.
In round three of four rounds held in the competition Correia and Emmerson had one rail down giving them four faults after three rounds, and a clear round each by Rodrigues and Howard ensured that the final round when accumulated times from the second and fourth rounds would be crucial would be exciting.
This it proved to be as Correia went clear giving him a total of four faults and he completed his rounds with a good time. Rodrigues and Southern Eclipse were next and in trying to make a good time they had two rails down giving them a total of eight faults. So Howard needed a clear round in order to repeat her two previous victories with Just a Rose, but it was not to be as she had one rail down giving her a total of four faults and tied with Correia. The times of the second and fourth rounds would now be the deciding factor and Correia's faster accumulated time of more that sixteen seconds over Howard made him the winner.
In category B the competition was not quite as close although there was some good jumping with Vicki Steele emerging the worthy winner with four clear rounds on LA Baltic Star. Second was Tyler Lopes on Baileys Bay with eight faults total and third was Stephanie Wilkinson on Esquire with sixteen faults
The overseas FEI judge for the competition was Chrystine Tauber from Wellington, Florida assisted by local FEI judge Paul Pereech. We now await the results from the competitions being held in Caribbean countries to see how we compare overall.
Read More About