The Bermuda School Sports Federation hosted the 28th annual Denton Hurdle Awards on Friday [June 14] at the Phoebe Purvis Memorial Hall at Warwick Academy. These awards, honoring the late Denton Hurdle, are used to highlight, recognize and reward the finest primary, middle and senior school student-athletes.
The Denton Hurdle Awards Ceremony recipients follow below:
Primary Boys: – Tie
Samuel Darrell – Purvis Primary
Samuel Darrell is deputy head boy at Purvis Primary. He is also a prefect, house captain PE equipment manager and cross country and football team captain. He represents Purvis in field hockey, softball, footballm cross country and track and field.
He has been on the honour role since P2. Samuel is a member of Pacers track team and assisted in painting the trail posts at windreach and the construction of the Spirit of Bermuda float.
Robert Thomas – Harrington Sound Primary
Robert Thomas is deputy head boy and prefect at Harrington sound. He has acquired over 100 hours of community service during this school year. He also volunteers at Happy Moments Nursery and Preschool. Robert has also started a neighborhood newspaper called "kid's funny gazette" He is also an active member in Sunday school.
He is the recipient of the 2013/14 Pitt Scholarship from Saltus Grammar School and was awarded a merit award for good behavior and involvement. He has been invited to train with the Bermuda National Track and Field team to qualify for the 2013 CAC Youth Championship Games in Curacao.
He has won awards in Creative Writing, Science, Physical Education, music and Spanish. He was a member od the football, track, swimming and cricket teams.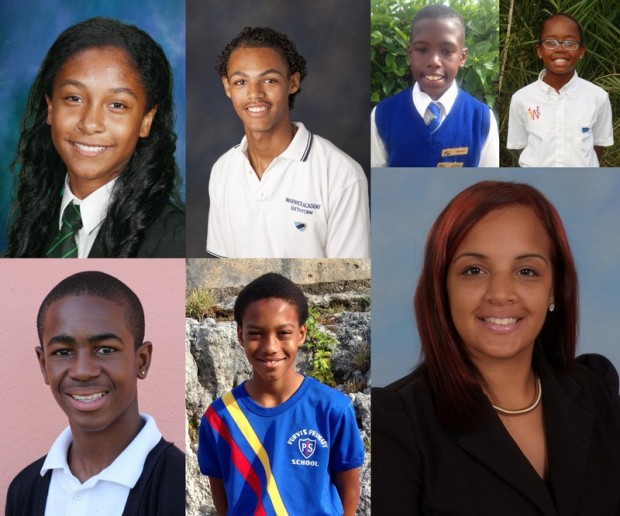 Primary Girls:
Destani Warner – West Pembroke Primary
Detani led West Pembroke in track and field, netball, football, cross country and softball. Destani is a prefect and house captain and captain of the netball, cross country and track team. She is also a member of the national gymnastics programme.
She is also a member of the Pacers track team, the Nets netball team and the YMSC football and dance teams. She a member of warner's gombey.
Destani is a three time champion girl at the BSSF interschool track and field championshps winning nine gold medals along the way. She also won the 2013 toby colombe memorial trophy as the the outstanding athlete for the 2013 BSSF track meet. She has maintained Principal honours for the last four years.
Middle School Girls:
Leah Smith – Somersfield Academy
Leah Smith represented Somersfield Academy in Netball, football, basketball, volleyball, track and field. She is the two time champion in singles and doubles in the BSSF badminton and tennis tournaments.
She placed first at the BSSF inter school track and field championships. She was an all star in netball. She played on the boys team in both football and basketball. She is a member of the womens under 17 and under 14 national teams in football.
Leah is also an accomplished dancer and violinist. She is a ballet, jazz and tap dancer with Somerset school of dance. She has also achieved distinction at grade 3 at the Royal school of ballet.
She was a recipient of the Catherine Zeta Jones Junior Student Scholarship in 2009. She is a member of the Bermuda School of Music Violin touring group. She maintains high honours in academic achievement.
Middle School Boys:
Ahria Simons – T.N. Tatem Middle School
Ahria Simons has represented T.N. Tatem middle School in football, cricket, track and field, basketball, volleyball, badminton and field hockey. He is the captain for Valencia's under 14 team and vice-captain for Cleveland county cricket club under 14 team.
He is also a member of the Bermuda National Football academy and has played for the past three years for the Northern Virginia Royals in Virginia. Ahria is also a former Bermuda Motocross Association rider and placed in the top three of many events. He is a prefect at school and captains the cricket, football and volleyball teams.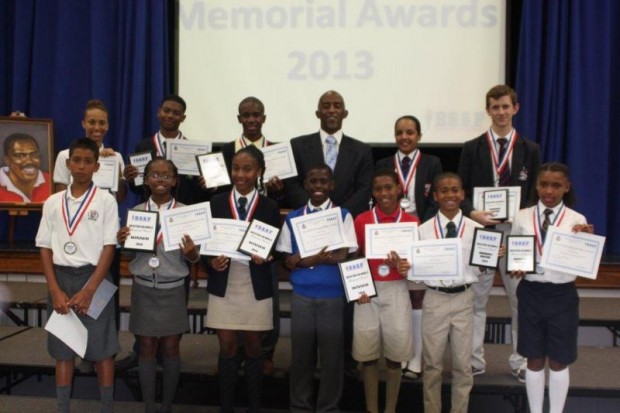 Senior Girls:
Latonia Fray – Saltus Grammar School
Latonia has excelled particularly in the areas of academics and sport where she has received several Saltus school honors. She is a currently Head Girl and House Captain, and winner of the 2013 Outstanding Teen Award for this year.
Academically Latonia gained 10 GCSE passes and is presently in her second year of study of our college-preparatory course. She is taking three Advanced Placement (APs) courses and A level Accounting, College Level Examination Program Sociology, and a pre-college course in Modern World Studies.
Latonia's conscientious and diligent attitude will surely see her enjoy further academic success as she heads towards a possible career as a Financial Analyst. She has also been awarded the A.J. Drexel Scholarship for having one of the highest GPA's for all who applied. She has been short listed for two prestigious local scholarships.
As a sportswoman Latonia has excelled both inside and outside school. She has represented the Saltus varsity teams in Football, Hockey, Volleyball, Netball, Basketball and Softball. She has also represented the Bermuda Hockey Association at the national level for the under 17, under 21 and the senior national team.
This continued enthusiasm, drive and commitment have allowed Latonia to display her Hockey talents on overseas tours of North America and the Caribbean. Latonia is a natural leader and she captained of many of Saltus varsity teams and has recently been awarded the school's Physical Education Prize.
She has already represented Bermuda with distinction at the Pan-American Under 17 Championships in Uruguay in 2010 where she was the Vice-Captain, at the CAC Games for the Senior National Team later in 2010 and most recently for the Senior National Team at the Pan-American Challenge Cup in Brasil in 2011 where she also filled the role of Vice-Captain at the age of 16.
Latonia's desire to succeed and to always do her best is matched by a desire to give and encourage others. She demonstrates this by readily volunteering for Keep Bermuda Beautiful (KBB), the Saltus Parent Teacher Association and BSMART Development Center.
Further extracurricular pursuits have seen Latonia gain the Bronze Standard in the Duke of Edinburgh International Awards for Young People as well as valued contributions to the Saltus debate and speaking teams.
Senior Boys:
Chas Smith – Warwick Academy
Chas has represented Warwick Academy in basketball, cricket, cross country, football, softball, volleyball and track and field. He also represents Bermuda in volleyball and track and field. He is currently Deputy head boy at warwick academy. Outside of school Chas volunteers at Masterworks, SPCA and Windreach.
Chas is a prefect and deputy head boy. He has attained nine GCSE's, seven with a grade of A or A*. He has been on the Principals list from Y9-Y12. Chas has earned a bronze and silver Duke of Edinburgh awards. He has won champion boy at Warwick Academy sports day from 2009-2013.
Chas has represented Bermuda in track and field at CAC junior championships in 2012, CARIFTA Games from 2011-2013, Pan American Junior Games in 2011, AAU National Championships in 2010. He has also represented Bermuda in volleyball at the CAN AM Volleyball Tournament in 2012.
Read More About