An agreement has been signed which will potentially take the Bermuda documentary, 'In The Hour of Victory' to the more lucrative North American and International markets.
Executive Producer of the film, Jonathan Smith, was in Beverly Hills, California last Friday to sign an agreement with Ostrow and Company.
Ostrow and Company specializes in finding and negotiating distribution and licensing deals for independent feature films and documentaries. They have successfully placed films for more than a decade, and have arranged financing and or negotiated distribution for over 250 feature films, TV movies and documentaries.
Page Ostrow [centre left] & Jonathan Smith [centre right] with the Ostrow and Company team: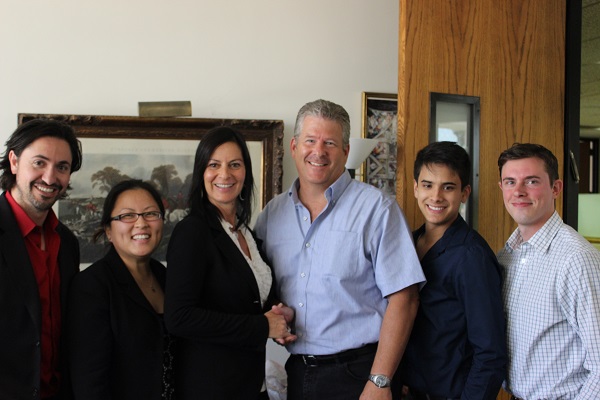 The film, which is co-directed by Bermudians Lucinda Spurling and Andrew Kirkpatrick, won the prestigious Platinum Remi Award for feature documentaries at the Worldfest Houston International Film Festival in April.
Speaking for Ostrow and Company, owner Page Ostrow said: "My entire team at Ostrow and Company and I are extremely pleased to be working with Jonathan Smith and representing his truly compelling documentary In The Hour of Victory.
"After 20 years as a veteran in the entertainment business I must say Jonathan made quite the impression flying to Hollywood from Bermuda for just one day to seal the deal with us. We look forward to working with him on this film and future projects."
Afflare Films' owner, and co-Director of the film, Lucinda Spurling commented: "Our ultimate goal was for the film to be broadcast internationally so the agreement with Ostrow and Company is a significant step."
"In The Hour Of Victory" Trailer:
Jonathan Smith, author and speaking for the publishers, TenTen Publications, added: "Lucinda and I would like to thank all of those in Bermuda and overseas who have supported this film so far.
"The centre of the film industry is Hollywood. To partner with Page Ostrow and her team who have extensive experience in navigating through the complex environment of the film industry just made good business sense. Page and her team work in that environment every day."
'In the Hour of Victory' has screened at Bermuda Docs Film Festival, the Bermuda International Film Festival, Worldfest Houston International Film Festival and has obtained very positive reviews as well as the top prize for documentaries at the Houston event.
Read More About
Category: All, Entertainment, Films/Movies