[Updated with video] This morning [July 25] the police marked the retirement of "Arras", who they said was "a dedicated K9 officer." Having arrived in Bermuda in 2004 to start his career with Bermuda Police service, Arras has made hundreds of seizures of illegal narcotics.
The police said his most memorable seizure was one kilo of heroin and 20,000 ecstasy tablets from an airport passenger. This seizure — which had an estimated street value of over $5 million — resulted in a criminal conviction.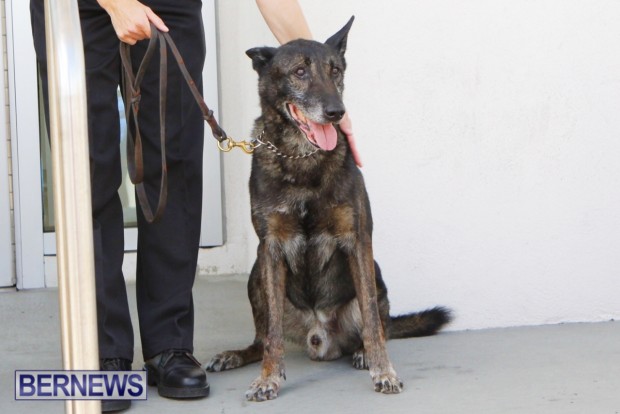 Chief Inspector Calvin Smith said, "We are here today to retire K9 officer 'Arras.' This marks the first time in recent police history that the Bermuda Police Service has undertaken such a venture.
"It is our belief that our dogs are an integral part of our policing family and thus they should be given a fitting tribute in their retirement. 'Arras' has proudly served the Bermuda Police Service for almost 9 years. He is fully trained to detect illegal narcotics and firearms, track criminals or lost persons as well as apprehend criminals and protect his handler.
"He was born in Holland and completed extensive training there for the first few years of his life. At about 3 years old 'Arras' achieved the highest merit in his training. He then travelled to a kennel in Peru, Indiana in 2004, where he was paired with Police Constable Denise Downey, from the Bermuda Police Service.
"Together they completed 5 weeks of vigorous training and collected multiple awards at the Police K9 Olympics. In the summer of 2004, 'Arras' arrived in Bermuda to start his career as a Bermuda Police canine.
"Over the years 'Arras' has made hundreds of seizures of illegal narcotics. His most memorable seizure was one kilo of heroin and 20,000 ecstasy tablets, which were seized from a passenger off a flight at the L.F. Wade International Airport. This seizure led to an arrest and ultimately a criminal conviction. The estimated street value of this seizure was over 5 million dollars."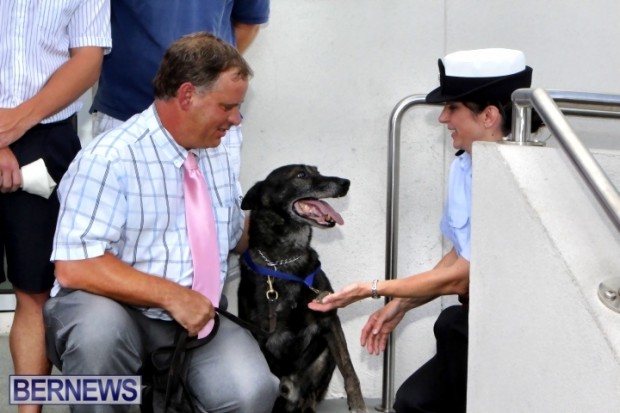 Chief Inspector Smith continued, "'Arras' has a very gentle nature and the Police Service utilized this by having him attend many schools and public functions throughout the Island. 'Arras' was a dedicated K9 officer and provided exemplary service to the people of Bermuda.
"We would like to formally say that we have truly appreciated this hard working and diligent canine. We also would like to formally acknowledge the partnership between PC Downey and K9 officer 'Arras.' This is not just a partnership, it is a family.
"So today is bitter sweet as 'Arras' will now enjoy the bounties of retirement and PC Downey will have to contemplate life without her partner and friend. We would like to thank Constable Downey for her work and commitment with 'Arras.'
"He is a good dog because she is a caring, loving, and compassionate owner. And for that we say thank you. We want PC Downey to take comfort in the fact that 'Arras' will be going to a good and loving home with the Gunn family.
"In addition, we would like to thank the Principle Customs Officer and the H.M. Customs Team that attended today's ceremony with their canine partners," concluded Chief Inspector Smith.
Read More About