Friday [Aug 16] 1Undread will be featured at The Chewstick Neo-Griot Lounge & Café as the latest artists to craft a Griot Session.
1Undread is a duo that creates unique renditions of dub-step, glitch, trip-hop and D & B music. They have been sharing playful, creative, soulful and experimental music for over sixteen years with their first internet album "Triangular Tunes, Let the Flavour Flow Thru" released in 2007 all the way to "There's Got To Be Magic Here (EP) released in 2012.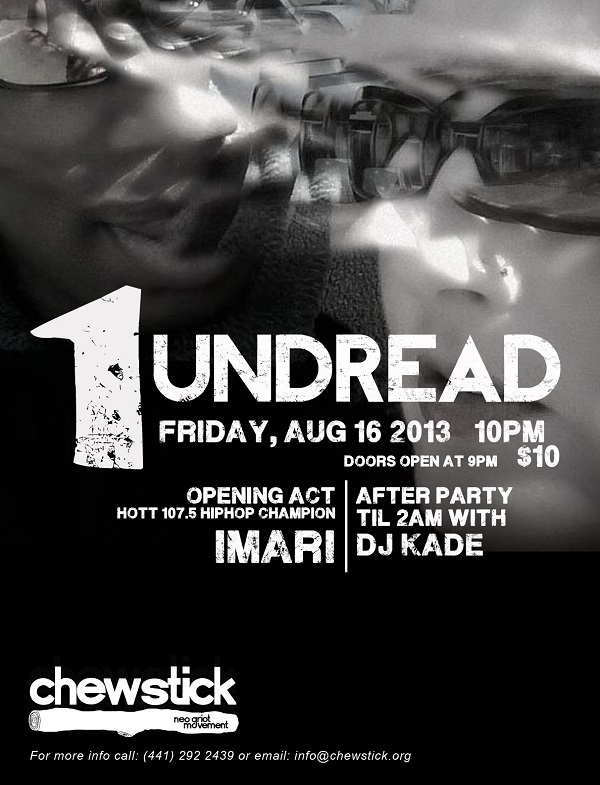 Their performance will be complemented by opening act Imari, the recent winner of Hott 107.5's Hip Hop Challenge. She has performed with D.I.A. and accompanied the Chewstick Foundation on the their Toronto tour.
This is 1Undread's second offering to the Griot Sessions series, designed to give artists an opportunity to connect with the community and present their talents in a custom, high-impact, intimate event. They'll share new music and discoveries from the past year and take the audience on a path that won't soon be forgotten. Following the performance everyone is invited to dance into the night with an after party with DJ Kade.
The performance will start at 10pm. Entry is $10; further donations toward The Chewstick Foundation are greatly appreciated.  For more information call 292-2439, 535-2575 or email info@chewstick.org.
Read More About
Category: All, Entertainment, Music