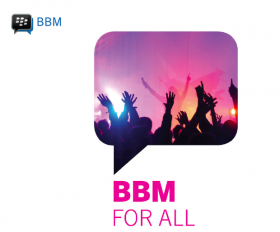 BlackBerry made its BlackBerry Messenger [BBM] app for Android and Apple devices available earlier this week after having to postpone the launch in September, with more than 10 million downloads taking place in its first two days online.
Social media has been filled with Bermudians discussing the new launch, with countless status updates of people posting their new 'pin' numbers and discussions about the new cross platform capability
Allowing users of both of the world's largest mobile platforms to connect to the already popular BBM, the app was forced to be taken offline on September 21 after an authorized version was installed by over one million users.
The BlackBerry blog said, "BBM rose very quickly in the Apple App Store free app rankings in the first 24 hours, taking the number one slot in more than 75 countries, including the US, Canada, the UK, Indonesia and most of the Middle East.
"We have also seen overwhelmingly positive reviews on Google Play and the App Store. In fact, BBM has earned 60,000 five-star reviews on Google Play from about 87,000 reviews."
Read More About
Category: All, technology